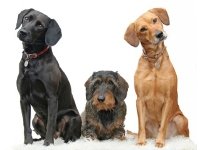 Adventures in Dog Sitting
We've had our fill of dog sitting for a while. My husband and I don't mind doing favours for friends and watching their fur babies if they have to go out of town. These same mates do the same for us when we need to leave Bella behind and they're true life savers as we cannot even fathom leaving her in a kennel. However, watching four different dogs over the course of a week and a half is far too much for our abilities. It was a fun experience for awhile until all of their bad habits started to rub me the wrong way.
The first set of dogs completely ruled the household while they were with us. Although the two of them combined still wouldn't be equal to the size of our Labrador, they seemed to take up so much room with their large personalities. The Beagle had a staring problem, which I know sounds a little strange so let me explain. He stared at us while we were eating and made us incredibly guilty for eating
pizza
. If we woke up in the middle of the night and looked over, the dog would no doubt be glaring at us as if he were about to eat our souls. He also liked to steal food from our kitchen counters, which is a huge no-no in our house. All of this is nothing compared to his love for dragging his bottom across our carpets.
The Beagle's buddy was an incredibly friendly Boston Terrier. She has a tongue that reaches out and grabs you when you're not even paying attention. Why did she always have to go for our mouths? I don't particularly enjoy French kissing a dog with awful breath. She always found herself on our white
couch
without permission, leaving behind traces of black fur everywhere.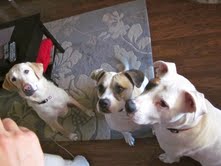 Both of these dogs would bark at the sound of our air conditioning shutting down. By the end of their stay, I gave up on disciplining them at all.
The next couple of dogs who shared our home were much better behaved yet still not perfect. They loved getting on our bed and would pant endlessly, leaving drool everywhere. These massive pups also found Bella's toy basket and proceeded to tear them all apart time for a trip to the
pet shop
to replenish them - could be pricey if it weren't for voucher codes!) And you won't believe it but one took a gigantic dump right in the center of our bedroom carpet that resembled something that came out of a horse.
At the end of our dogsitting stint, my husband and I were ten times more thankful for our Bella and how well she fits in with our family. She loves naps and cuddling, furniture is off limits unless we invite her to join us and she rarely begs for food.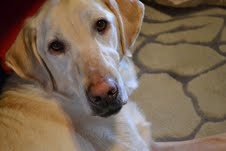 However, I can't help but think what others may think about her when they have to take care of her for a while. Bella can't walk on hard floors, has severe separation anxiety and sheds so much that I'm surprised she has any fur left on her body. I guess what they say is true. Your child is always the cutest, brightest and best in the world. It also applies to our dogs as well. Although we still treat our doggie visitors with plenty of love and attention, we just cannot help showing favouritism with Bella.