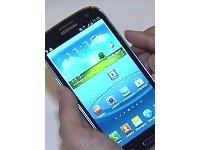 Ahh, the Samsung Galaxy S3
Last week, Samsung announced that its flagship smartphone, the Galaxy S3, will be launched across Europe on May 29th. If you wondered how they were going to top last year's best selling phone, let me tell you, I have no doubt this one is going to find its way into even more pockets than the last.
Lots of cool functions make this the must-have phone of the year for students and young adults while some pretty clever innovations make it the must-have phone for businessmen and people who want more of the 'smart' in their
smartphones
.
Built in face tracking and voice control


According to Samsung, what they call S Voice will allow for a more natural control system. Similar to Apple's Siri, you can launch the internet, your camera, weather forecast and more. It also repeats what you say out loud which means it can be used hands-free in the car.
More intelligent lock system


My mum loves this particular feature - whether that's a good or bad thing depends on who you are. Rather than shutting onto standby every few seconds, the phone's camera senses when eyes are watching it and stays awake.
Quad core processor


Incredibly, the S3 is powered by a quad core processor, similar to what you'll find powering
tablets
and a load bigger than the iPhone's dual core processor.
Wireless charging


For reasons I don't fully understand, women in particular hate wires and chargers lying around. This puts paid to that with a wireless charging kit that lets you charge without plugging into a socket. Add to that Samsung's claims that it's got the longest battery life currently available.
NFC chip


Standing for Near Field Communications, the NFC chip lets you tap your phone with other S3s and share videos and all that other social media stuff we can't live without.
Pop Up Play


Usually associated with Windows on your computer, this lets you open up one window and do something else with another app at the same time.
Specs compared to iPhone 4


Screen size - 4.8 inches compared to iPhone 3.5 inch
Processor - 1.4GHz quad core compared to 800MHz dual core
Camera - 8 megapixel for both phones
Weight - 133 grams compared to iPhone's 140 grams
Cost
Carphone Warehouse announced that, when it's released, the Samsung Galaxy S3 will be available on a 24 month contract for $36 a month, so a pretty standard smartphone tariff. However, with the planned multi-million dollar global advertising campaign leading up to the launch, chances are this one's going to sell out at a crazy rate.
For me, it's a no-brainer. The Galaxy S3 is what we've all been waiting for but leaves the unanswered question; can
Apple
possibly raise the bar with the iPhone 5?