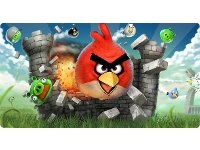 Angry About an Angry Birds Cake
As a child, my mum once brought a cake to class on my 6th birthday for my classmates and me. Though I retrospectively appreciate the gesture, I was largely distraught when it was actually happening. See, the cake had these little jelly beans shaped like rocks on top of them and I very badly wanted one of them on my slice of cake. And yet somehow, it seemed like everyone but me ended up with one of those jellybeans. Surprisingly enough, I managed to hold in my frustration regarding the matter. Still, it all would've been a moot point if I had an awesome cake for my birthday like this one:
Yes, I've admittedly been talking about smartphone apps far too much as of late. But in my defense, Angry Birds is one of the five best things in the world and this is an amazing cake. Indeed, an adventurous father took the time to build his son a completely playable (and edible!) version of Angry Birds for his birthday.
It took me years to get over the whole rock-shaped jellybean thing and if my continued harping on about it is any indication, I'm still not entirely over it. And now I have Angry Birds cake envy. It seems as if my life is filled with cake disappointment. Fans of
Portal
will be able to relate.