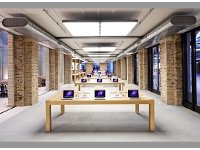 Apple Store Opens at Covent Garden; Free T-Shirts Steal Spotlight
Although the majority of the talk surrounding
Apple
as of late has been centred on the iPhone 4's various antenna issues, the company was, at least for a day, allowed a bit of reprieve from the public as they handed out free t-shirts to customers on August 7th. At the company's new flagship store in Covent Garden, London, thousands of people stood in queue to be among the select few who would receive a shirt commemorating the store's opening date and location.
While even the most ardent Apple supporters would admit that the free shirts lack the flash of some of the company's more recent products like the iPad and the aforementioned iPhone 4, many claimed that the appeal of the shirts were due more to their limited numbers.
"Anybody can walk into an Apple store and purchase an iPad or an iPod," one patron was overheard saying, "but only 4,000 people will ever own one of these snazzy shirts. I bet it'll sell for upwards of £100 on eBay."
Customers lined up as early as 10am the previous day to ensure that they would be among the lucky few to receive one of the highly sought after shirts. Indeed, so much attention was focused on them that they seemed to almost completely overshadow the store itself. Without so much as a second glance, droves of people strode right by the store's "start-up room," which allows customers the chance to set up their newly purchased gadgets immediately. Similarly, the employees attending to the "genius bar" stood around silently, desperately hoping to catch the attention of passersby.
The new Apple store is the company's 28th in the UK, and 300th worldwide. The Regent Street location, which had previously been the largest and highest grossing Apple store in the world, likewise attributed much of its success to free opening day t-shirts.