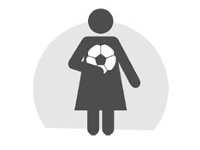 Are you one of the many recently bereaved World Cup Widows?!
Widow - Wid.ow; a woman often left alone because her husband devotes his free time to a hobby or sport (used in combination), i.e. World Cup Widow, June 11th - July 11th 2010!
Savoo.co.uk is urging World Cup Widows not to despair at the thought of a whole month filled with beer, testosterone and 'strategic chats', and instead use the opportunity (and the fella's distraction) to pamper themselves.
Click 'Read More' for our recommendations!
With research showing that 61% of Brits are planning to watch the majority of World Cup games at home, this doesn't pose much fun for the 28% of people who have no interest at all in watching the 'beautiful game'.

But instead of stumbling over empty beer cans and hiding in the wardrobe to avoid those footie-style man hugs, Savoo.co.uk is encouraging World Cup Widows to treat themselves to some self-indulgence too. With nearly two thirds of Brits expected to increase their leisure spending as a consequence of the 2010 FIFA World Cup, and that figure rising to almost four in five hardcore football fans, why shouldn't the World Cup Widows have a little fun time too?
Despite a third (31%) of Brits saying they will probably buy alcoholic drinks specifically for entertaining during World Cup, Savoo.co.uk wants to show World Cup Widows that there are more exciting luxuries to spend their hard earned money on – and all at a fantastic discount
·
Sun yourself on the top deck of a Thompson Cruise whilst leaving the men to catch all the England World Cup games on the lower deck. Thompson are even offering a further 10% discount with online bookings with this special offer. View further opportunities to save with these Thompson Discount Codes.
·

If you'd like to get away from it all whilst also keeping the kids happy, this dine for free at Disney when you stay 5 days offer could be just the solution you need. See more Disney World discount codes.
·

Did we mention spas? Well, when it's time for a good pampering , it's time for a good pampering! And this 2 for 1 Pamper day

offer

at Bannatyne's Spas for £59, is too good to turn down! Find more special offers with a Buyagift promotional code
·

If shopping were a sport, then we're pretty sure there would be quite a few David Beckham's out there! And with £10 off orders over £20 with this La Redoute code, what better way than to demonstrate your 'skills'. Find a further selection of La Redoute discount code special offers.
·

Whilst the men sprawl out on the sofa hogging the TV, you'll have to find another room in the house to relax. So for ladies who want to sprawl in style, this Figleaves code offering buy one, get one half price on stylish loungewear is perfectly timed. Search for another figleaves voucher for more discounts.
Whilst the boys are watching the game, the girls should be painting the town red, so why not treat yourself to a snazzy new outfit and save 10% at Boden with this offer. See more opportunities to save with a Boden discount code
So don't despair, you can spend those interminable 90 minutes getting a great bargain online, and just dare him to complain!