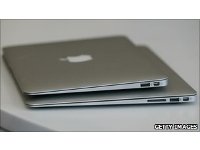 Back to the Macbook Air
In Apple's latest attempt to have you pay money to stand in queue for hours, the company unveiled the new Macbook Air at its Back to the Mac event. Unlike the previous Macbook Air, which for all of its manila folder-fitting thinness still managed to pack a hard drive inside, the new one takes a page out of the iPad's book and relies solely on flash memory. According to Apple CEO Steve Jobs, the new Macbook Air is "like nothing [Apple has] ever created before." Except, you know, for the old Macbook Air. Which, incidentally, happened to be very functionally similar to the regular Macbooks. And the old Macbooks in turn were sort of like portable versions of the iMac. So it's actually a lot like things they've created before.
In any case, Apple's apparent goal was to remind consumers that, for all of its overwhelming success with the iPad, iPhone, and iPod, the company's success is still rooted in that of its computers. The new Macbook Air's form factor is even thinner than the last, measuring a scant 0.11 inches at its thickest point. This, we're sure, is fantastic news for people who were planning on trying to fit an 11 inch PC into their pockets. Priced at $999 in the States, the new Macbook Air does admittedly make for a much better bargain than the old Air, which was priced at $1799 US. Of course, that price point also led to the computer being adopted by next to nobody, so we can understand why they've chosen to lower the price.

So, in conclusion, it's throw your hard earned money at Apple time of year again.