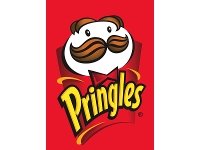 Brand of the Week: Pringles
"Once you pop you just can't stop" – the catchphrase that sums up the Pringles brand and one of the reasons why we have chosen to make it our brand of the week.

For quite a while now, Pringles has been one of the main party snacks available. No event seems complete without these tasty, savoury additions but why are they so successful?

The Pringles brand was established in America during the 1960s, hitting international stores by the 70s. The product was said to be first developed in response to consumer complaints about other forms of potato snack. These complaints often referenced broken or stale crisps, or too much air in the packaging. P&G, the company behind Pringles, therefore created this new form of potato crisp.

Distinctive Shape

The distinctive shape of the Pringles crisp was specifically developed to address these complaints. The shape and stacking of the crisps inside the packaging reduces breakages and damage.

Packaging

The packaging itself is another direct solution to the aforementioned problems. The tubular shape means that the packaging holds more crisps and less air, offering customers better value.

Taste

Of course, changing the packaging and design of potato crisps was not enough to establish their brand fully, Pringles needed to have a distinctive taste. Improving the flavour of the snack was, therefore, the next item on the agenda and is something which the brand have continued to develop, offering new varieties to meet the changing consumer trends.

Advertising

The slogan 'once you pop you just can't stop' is unmistakeably associated with Pringles. This slogan has been consistently used throughout the last few decades and has helped to establish the brand globally.

The cartoon character used as the logo is another consistent aspect of the brand. The novel figure is a simplistic design which is easily recognisable to consumers. This is because the large moustache is made to look distinctive against the white background of the face – another aspect of the Pringles brand that 'pops'!