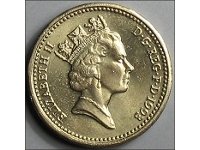 Budget Shops Could be Set for Worrying Price Shift
Picture the scene: you walk around your high street and there, located next to a trendy clothing store, sits a £1 store. Its low cost prices are clearly advertised in the window, enticing you in with promises that everything will cost just £1. You feel the temptation and step through the door – but would you still do this if it was a £1.20 store?
Well, this is one question which may not remain hypothetical for long. According to the BBC, rising inflation could see some of these "everything £1" stores raising their prices, with one Welsh entrepreneur already bucking the £1 trend.
Back in 2010, Colin Sharp changed his small range of £1 shops to £1.20 shops, claiming that there has not been a subsequent reduction in the number of customers. According to Sharp, some of his clientele complained about the changes to begin with but, as he's still cheaper than everywhere else, they continued to give him their custom. This has led Sharp to predict that the likes of
Poundworld
and The 99p Store will follow his trend – but would we still shop there if they did?
I have to say that I probably wouldn't. Call me tight, frugal or whatever you want but I'm sure I'm not the only one who thinks that pound shops should remain unchanged. The Poundland chain is said to have been in operation for over 20 years, keeping their prices at a constant level and that is why we love them. Not just because they are low in cost but because the prices never change.
Admittedly, these shops don't always save you money and for every bargain that you buy there is sure to be one completely useless purchase. Yet, on the whole they do a good job of keeping our spending to a minimum so scrambling around for an extra 20p each time we make a purchase is not something I envisage becoming popular.
Luckily, according to 99p Stores and Poundland, there is no intention of them ever following Sharp's drastic action in Wales. Instead, the size and amount of the products they sell will be under review, with some
chocolates
already being sold in smaller weights.
But before we all start moaning about this outrageous movement let's consider three important facts:
The price is still usually the cheapest available for the particular item on offer
The stores have to do something to battle inflation
At least it doesn't cost £1.20!