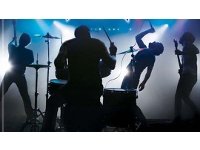 Diary of a Band Member: Five Things Every Band Must Do
Whether you are in a band with family, friends or casual acquaintances there are certain things that you must do. Aside from investing in the necessary equipment, practising your skills regularly and crafting your own killer tunes, every band should embrace the social aspects of a musical partnership as well – and here's how:
See your Idols

Something which I am planning to do next week by seeing the legendary Misfits (I'll let you know how it goes); every band is likely to have a common influence or idol. Seeing this band or individual live on stage can be a great experience even if they don't live up to your expectations. Not only will it show you how the "professionals" do it but it could make your realise that your talents are better than you thought.
Socialise
Being in a
band
, whilst primarily about the music, isn't the only thing you need to consider. In a somewhat corny and clichéd expression, your band should be like your family. Spending time together away from the studio will improve your relationships, making you closer and stronger as a group.
Write your own Songs
Even if you are pitching yourself as a 'covers' band, writing you own material is still essential. This gives you the chance to see just what you can all do and is often more fun and rewarding than playing the same popular songs time and time again.
Go to Local Gigs
A common mistake made by many small bands is assuming gigs and opportunities will come to them. This is far from the case and if you want to take to the stage then you need to invest some time in watching others perform on it. Take "band outings" to local gigs and events and make yourselves known.
Talk to promoters and the other bands and show them you are interested. If you have a demo CD (or
MP3
tracks), now is the time to give them out. You should even consider investing in a band email address and social network profile to give promoters easy forms of contact.
Hit the Road (Jack)
Organising a small local tour is a great experience for any band. Indulge your fantasies of rock stardom and hit the road – just remember, what happens on tour stays on tour!