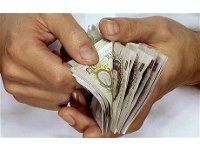 Family Comes First
For once, the realms of the internet have delivered some (sort of) positive news about finances. Unfortunately, there is no guaranteed windfall coming our way but if we are lucky enough to become Mr. Moneybags then it is our families who will benefit first.
According to the European Lottery Guild (ELG), just under half of respondents claimed the first thing they would do with their winnings is help family and friends (which I also named as number one in my recent list of what I'd do with £1million).
The second most popular ways to spend a
lottery win
were a holiday or luxury home, both of which received about 20% of the vote. This is less than half the amount who named family and friends as their main priority showing that, in some ways at least, we Brits remember that family comes first.
Elisabeth Moore, the Customer Relations Manager for ELG, explained they were slightly shocked by the response, expecting 'larger' expenses such as this to occur later whilst smaller expenditures, such as buying Champagne, to be named first.
Moore explained how she felt the family focus was stronger at the moment due to the fact many of us are "living in less prosperous times." The idea of being able to support our friends and families so that they don't have to worry about financial obligations is, therefore, more desirable, making our family top of our list of concerns.
So, whilst the chances of me winning the lottery are slim (seeing as I haven't played it for months), I have decided that I shall put my family first nonetheless.
From now on, the savings I make through the use of
vouchers
will be put to good use. Of course, I will make sure I invest some for myself but I'll also make sure I take care of those I love.
This means that any vouchers I see for household necessities and food will be used, with the goods being donated to family members who may be struggling more than I am (such as those in the more mature age bracket).
I don't need to go nuts but
sharing the love
and limited wealth now and again will help out my family and make me feel better in the process – a situation which could instigate a debate on whether there is such a thing as true altruism but perhaps I should save that for another day.