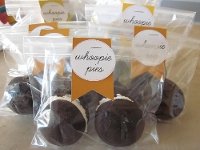 Free Is Always Better
Deals, coupons and promotions are all wonderful but nothing beats free! Free cheese samples at the grocery store? I am there. No lactose intolerance is going to slow me down! Next time your friends swing by the flat with a six-pack, why not save the carrier, cover it with attractive paper and transform it into a pretty carrier to store craft supplies, tools or even eating utensils for a picnic? How about taking free paint chip samples from the hardware store and using them to spice up packaging for your bake sale goods or your Christmas presents?
Grocery store dustbins aren't safe from me either. I once dug in and grabbed some of the packaging used to prevent bruising on fruit and used them to protect glass candle holders from breaking during a move. Cheap, frugal, savvy, revolting or creative? I'll let you decide. But whatever you label me, at least my wallet is slightly thicker. Just don't pin it on me if you get sympathising and/or disgusted looks by passers-by as you rummage your way to treasure.