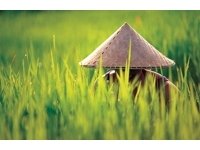 Hanoi - the Home of Bargain Holiday Deals!
There is no better start to a holiday than a romantic meal for two, with some sumptuous cocktails, all finished off with a night spent in a comfy hotel bed. If you are looking to get change from a couple of £50 notes then your best bet is to book a flight to the bustling Vietnamese city of Hanoi where all this, plus a taxi ride, comes in at a wallet-pleasing £89.93.
The findings from the TripAdvisor TripIndex confirm what many backpack-wearing globetrotters have known for ages; South East Asia is still number one when it comes to travelling 'on the cheap'. Whether you head to the bright lights of Bangkok (£103.38) or the sprawling city of Kuala Lumpar (£123.86), you can still get all of the above for less than £200.
Harking back to my own South East Asian trip, my own modest £300 a month 'all in' budget saw me enjoy the splendour of a
guesthouse
by the Mekong river in Thailand for roughly £2 a night while enjoying a delicious bowl of noodles and vegetables in the centre of Hanoi for £1. Gazing along the list of the top 10 cheapest cities, I make a mental note that Taipei, Taiwan (£129.70) and Jakarta, Indonesia (£136.02), should be next on my Asia hit-list.
Not a long-haul fan? There are plenty of options on the continent that will see your pounds stretched further. At £123.32 and ranking in fourth place overall, Budapest is more than a match for the charms of South East Asia, though it can't claim to offer the same balmy year-round climate.
What I loved about Budapest was that it had so much to offer and all at such a bargain price. For starters, you can get there with
low-cost carriers
such as Ryanair so your initial outlay doesn't hit the travel budget too hard. Then you can easily hop around the city with its efficient metro system, paying a fraction of the price you would in London. You can then head for a walk along the Danube, followed by a dip in one of the many public baths, all the while struggling to part with much
holiday cash
.
Other Eastern European gems, according to the Index, include Warsaw in Poland at £127.30 and Sofia in Bulgaria at £132.38.
"TripIndex helps travellers to see where their pound goes the furthest," commented Emma Shaw, a TripAdvisor spokesperson.
"The list shows that many Asian cities along with some European cities – like Warsaw and Sofia – are very affordable once you're on the ground. Some cities traditionally considered expensive – like London, Paris and New York – actually cost three times more than the cheaper cities in the list for an evening out."
Londoners won't be shocked to find out that the capital featured highest in the ranking for expensive cities with costs for a night out coming in at £330.45. This was followed by Oslo (£319.62), Zurich (£310.06), Paris (£306.76) and Stockholm (£302.46).
I was comforted to find out that
New York City
came in 6th in the ranking at £290.89 as I am keen to go back for another taste of the all-American experience. For me, that's the Sex and the City tour, bagels and a horse & carriage ride around Central Park.
The costs are calculated for the upcoming summer season (1 June – 31 August 2012) so travellers can ban all notions of a 'staycation' and head where the sun never fails to shine.