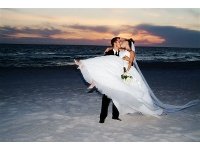 How to Plan your Nuptials Abroad
The prospect of saying 'I do' as the warm waters of the tropics lap at your feet would inspire many brides to cram their white gown into a carry-on case and book the first one-way flight to a far flung destination. After all, weddings don't have to be all about crammed church halls, homemade buffets and gusty churches. Think more wedding vows declared al fresco, a slap-up feast at a local seafood restaurant with scenic views and an ancient church perched atop an imposing hill.
With average wedding costs in the UK falling between £15,000 and £25,000, heading abroad to get hitched could be just the ticket. Here are some key points to bear in mind before taking your big day overseas:
Hunt out the best deals
From 15 December 2012 to 31 January 2013, visitors staying at the Reef Villa and Spa, in Sri Lanka, for seven nights get a complementary civil wedding. This includes the services of a registrar, documentation, translation of the documentation, a bouquet of seasonal flowers for the bride, a buttonhole for the groom, a decorated oil lamp, witnesses as required, a wedding co-ordinator and a wedding cocktail. With suites at $440 a night, this could add up to $3,080 for your stay (£1993), excluding flights.
If you have a particular
destination
in mind, ask your travel agent or approach the resort directly to see if they can throw in a few wedding extras.
It's also a good idea to contact local councils and churches in the country you are visiting to enquire about wedding ceremony prices and go DIY to search out bargain deals for accommodation, reception venues and flights.
Check out the legalities
Visit the local British embassy website of the country you are planning to visit in order to get an understanding of the paperwork you will need for your wedding.
For example, if you're marrying in Italy you need to obtain a specific form, a Nulla Osta (an Italian CNI), from the nearest British consulate. In France, you may need a Certificate of Custom Law but consult the local town hall for more information.
Choose your destination carefully
If you want more than a handful of family and friends to attend the big day, it's important to choose a destination that is within reach of the majority of budgets. Look at the range of destinations offered by low-cost carriers such as
Easyjet
and Ryanair and plan your wedding accordingly.
If you are happy to share the big day with just your loved one then you can afford to blow the budget and head to popular far flung wedding destinations, such as Mauritius or the Caribbean.
Use your wedding gifts to fund your trip
According to new research by First Direct, 31% of prospective newlyweds put money and vouchers at the top of their wedding gift list. There is no shame in asking for a donation to the
wedding
pot, even if some friends and family may not get the chance to boogie at your reception party. There are a host of honeymoon fund websites on the internet where your nearest and dearest can make a contribution to your dream wedding.
Save even more
You can make even more savings on your nuptials by purchasing the items you need for your wedding, from rings to the wedding dress, once you're abroad. Carry out thorough research before you head off to ensure that items can be adjusted in time. Hiring local photographers, florists and other services should also be more cost-effective once you head away from British shores.