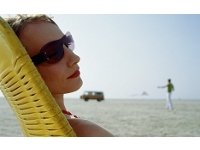 How to Stay Healthy on Holiday!
Dodgy tummies, sunburn and a host of other holiday nasties can leave travellers feeling decidedly grey on holiday. If it wasn't for my copious applications of insect repellent on a recent holiday then I would have had dozens of mosquito bites as a lasting memento of my trip. To stay healthy on holiday, follow the tips below:
Travel sickness
While
travelling
inspires a feeling of excitement for many people, for others most journeys are spent trying to distract themselves from symptoms such as dizziness, nausea and vomiting. Travel sickness is set to occur as a result of an imbalance between what our inner ears sense and what our eyes see.
Travel sickness pills can relieve symptoms but can also make people feel drowsy. Avoiding alcohol and eating little and often can help you to feel better as you travel to your holiday destination.
Sunburn/sunstroke
Holidays are often used to top up tans for a year-round glow but over-exposure to the sun can lead to sunburn and sunstroke as well as increasing the risk of cancer.
Applying sunscreen at regular intervals, especially after you have been for a dip and staying out of the harsh midday (11am - 3pm) sun can all help you to avoid suffering the harshest effects of the sun.
Staying hydrated by drinking water is also vitally important. Aftersun creams can help to cool sunburned skin but you should seek medical advice if skin becomes broken and starts oozing liquid.
Wearing a sun hat, sunglasses and a lightweight long-sleeved top over your swimming costume can go some way to protecting you from the sun.

Malaria and Vaccinations
Paying a visit to your
travel nurse
is essential before heading off on holiday. They will be able to give you the range of vaccinations you need before you head off and advise you on whether you will be heading into a malaria zone and the range of malaria tablets you can take. If you are having vaccinations at your local GP surgery and you have been registered there for more than three months, you may be able to get some vaccinations for free.
Vomiting and Diarrhoea

Adding rehydration sachets and diarrohea tablets to your travel medical kit can help you to deal with problems as they arise. Sensitivity to new cuisines can play havoc with your digestive system and you may have to take a trial and error approach to the foods that you can and cannot tolerate.
It may be advisable to stick to drinking bottled water when you are overseas unless you can be assured of the water quality in the country you are visiting.
DVT
Certain groups of travellers, especially those on long haul
flights
, are more at risk of deep vein thrombosis than others such as people who smoke or pregnant women. Symptoms of DVT include redness, warmth, pain, swelling and engorged superficial veins in the calf.