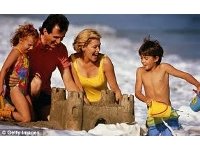 How to survive a family holiday
How to survive a family holiday!
Holidays with the whole family in tow can be a tumultuous affair if not planned properly. Balancing the needs of energetic toddlers with those of sulky teenagers, while still managing to squeeze in some well deserved R & R, can seem like an insurmountable challenge.
If you have visions of a windswept beach and sangrias at noon, while the rest of your family equates the perfect break with non-stop activities, you may be heading for a holiday meltdown. To avoid a family holiday dream turning into a holiday nightmare, follow these handy tips.
Ensure your flight is as painless as possible
Long and mid-haul flights can be the ultimate headache for parents who struggle to keep children's cabin fever at bay. Allowing children to pack their favourite toys, colouring books and comfort blankets in their carry-on luggage will keep them occupied for hours on end. Give children the freedom to stretch their legs a little to offset any restlessness and ensure that you book seats in advance so that your family can all sit together.


Choose your resort carefully
When planning your holiday, look for locations that have onsite facilities such as a swimming pool or kid's clubs to ensure that all your needs are met. Resorts that are in close proximity to the beach and local amenities may also be more convenient for families, as less travelling will be required. Hiring a car when you reach your location can also be a great way of getting around with minimum fuss.
Consider self-catering
Hiring a villa or other self-catering accommodation could help to give you more control over your family schedule on holiday. Instead of your day being fitted around hotel meal times, you can have the freedom to carry out activities at your own leisure.


Plan your budget
Budgeting can fall by the wayside on holiday, and it's essential that you factor in eating out, drinking, sporting activities and a host of other costs in your holiday spend. Brits spend an average of £372 per week for travel and accommodation on their summer holidays. This is in addition to the £227 per person per week in spending money. This would bring the total cost of a two-week break for a family of four to a staggering £4,792.

Outline a holiday routine
If children are used to the routines of school and home life they may be thrown off when they go for days on end without a fixed schedule. Setting a routine for your holiday that includes set bed times and a programme of daily activities should help to ensure that your family holiday goes off without a hitch. If you're stuck for activities and things to do, visit the local tourist office in your destination to get an idea of the activities on offer.
Make use of forums
Family and parenting forums can be a great way to get advice on your holiday plans from seasoned travellers. You are also more likely to get a fuller picture of how family-friendly a resort or destination is than you might do from your tour operator. The following questions can provide the ideal starting point for discussions:
What baby facilities are available in the room/apartment eg. microwave, cot, highchair?
What facilities are available to entertain the children – separate pool? Play equipment?
If there is a kids club, are there age restrictions? Do you have to pay extra for the kids club? Will your children be split into different classes by age?
Is the accommodation unsuitably located? Such as at the top of a steep hill or a long way from the beach.