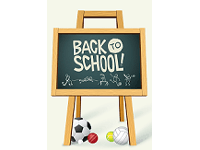 Infographic: Back to School Costs £4000 A Year
Mums and dads spend an average of £3,978.40 a year per child on school essentials with the cost of uniforms, stationery, transport, lunches and day trips all adding up.
Simon Bird, General Manager of Savoo says; "Millions of families up and down the country are preparing for the new academic year but are they prepared to spend almost £4,000? Our research reveals the staggering cost of sending youngsters back to school this year. Parents might be concerned about schooling costs but shopping smart with discounted vouchers could ease the blow to household budgets this term.
"Savoo.co.uk is helping families get off to a flying start this September, offering hundreds of discount vouchers and codes."

Want to embed this infographic on your site? Use the code below:

Produced by
Savoo.co.uk