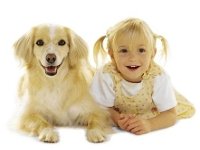 Let Sleeping Dogs Lie
I adore it when the neighbourhood children want to pet my dog and shower her with love as I pass them on walks. Bella returns the favour with wet kisses on their faces which always makes the kids burst out in giddy laughter. It's a moment filled with innocence and happiness but I can't help but think that it could end in disaster if Bella were less well-behaved. It astonishes me when kids run up to Bella and start hugging her without asking for permission first. I've started to realise that I'm guilty of this as well. I just can't resist showing love to every single dog I encounter.
We humans have an innate bond with dogs and would like to believe that they can do us no harm. Unfortunately, an article in
The Daily Mail
states that over 6,000 victims of dog bites are hospitalised a year. It's easy for us to blame the dog but we should really take a look at our own actions and see why these dogs attack. Dogs, no matter how cute and cuddly they may appear, are still animals and we must remember that. However, there are some rules we can teach our children when dealing with dogs and abide by ourselves to minimise the chance of being bitten.
One of the most important things to remember when approaching a dog is to ask its owner whether or not it's okay to stroke it. Most owners are more than happy to allow this and they have the best knowledge of their own pet. But even a usually timid dog can become irritable if it's unwell or on
pet meds
for some canine problem.
Another important thing to remember, even if the owner says it's okay to stroke their dog, is to be gentle. Don't make quick movements and maintain your distance. I stick my face in front of Bella's nose all the time but that isn't necessarily a good idea around someone else's dog. You know how you stick your hand out to let a dog sniff you out before stroking it? That's not the best way to gain a dog's trust. Allow the dog to approach you when it is comfortable.
Bella is fairly good around kids but she often gets over-excited and barks at them when they are out of her reach. She mostly just wants to be near them and play. What drives her crazy and me even more so is when kids do a hit and run, meaning that they pet her and dart away quickly. This causes Bella to try to chase them, which leads to her choking herself on the leash. A dog's instinct is to chase so please don't run away!
Finally, my dog loves food more than she loves anything else in the world, including me. The only time that I have ever seen her show aggression towards a person was when she was gnawing on a rawhide and someone tried to
pet
her. She defensively started growling and I pulled her away immediately. It is important to never go near a dog when it is eating.
These are just a few things I plan on teaching my future kids years from now. I think it is crucial to teach children how to interact with animals at a young age in order to create good relationships and confidence around pets. Have you ever had a nasty encounter with a dog? Was it something that could have been prevented?