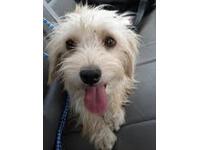 Meet Riley
I'm an auntie! I'm an auntie! I just want to shout it from the rooftops. I'm an auntie! Phew! I think I'm done. Ms Riley has the cutest little nose, the biggest brown eyes on such a little face and the tiniest toes. She also slept through the entire night in her kennel without a single peep. Oh, yeah. I forgot to mention that she is a furbaby.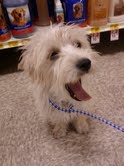 My sister and her boyfriend rescued her from a local high-kill animal shelter after months of heavy deliberation. Did they have enough time to take care of a dog? Were they
prepared
to financially support it? They had put in two adoption applications before Riley and they both fell through. I suppose it really is third time lucky.
To be honest, I'd always thought that because there is an overflow of animals in need of homes it would be easy for my sister to take one home. She surprised me when she told me that wasn't the case but I was also thankful that these shelters take the time to make sure these dogs go to a home that they deserve so that there is a low turnaround rate.
Since joining the family on Sunday, I've already received at least five pictures of her. My sister has become an overly obsessed pet owner who runs home at lunch to check on her dog. I bloody love it! She has always teased me about my absolute adoration for Bella and now she's one of us. I have to wait nine whole days before I get to meet Riley and it's driving me crazy. I cannot wait to see little one-year old Riley run circles around five and a half year old Bella.
I am doubtful that I will ever be an aunt of an actual human baby any day soon as my sister and her boyfriend high-five when they see kids misbehave and congratulate each other on their choice to just love dogs. Because of this I am especially ecstatic to
spoil this new pup
with loads of toys, DIY dog collars, treats and belly rubs galore. My discount hunting skills through
Savoo
and other sources will allow me to buy enough goodies for both pups in the family so there will be no jealousy issues between the new cousins.
I'd recommend anyone looking for a new pet to try the shelters first. You still have to pay for whatever animal you adopt but they're nearly always spayed or neutered, vaccinated and fully checked over by a vet first - saving you a small fortune in those initial fees that new pet owners often face. More than that, though, you will end up with a forever grateful, lifelong friend and that's worth more than all the money in the world.
P.S. I'm an auntie!