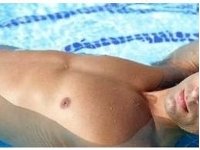 Metrosexual or Just Vain?
The life of the thirty something professional male in London is not an easy one, let me tell you. It poses more questions than answers – questions I freely admit I don't always have the answers to. But I try to be adaptable and enjoy embracing new things; things no man forty years ago would ever consider. Back in the day a bloke was happy with his lot and he knew what he could and couldn't do but these boundaries are now blurred. Some might say for the better and that men are now a far more interesting gender and some might say for the worse and men have lost their identity.

Either way, things are changing in the male psyche and that in itself poses questions for me that I need help answering.
Here's the thing. At what point does male grooming become too 'metrosexual'? Is this new word that has entered our lexicon a positive or a negative?

Lots of my friends have to 'wax' as they are just too hirsute and I reckon that is totally acceptable as nobody wants to see hair coming out the back of someone's shirt. Acceptable metrosexuality.

I am toying with the idea of growing a beard as it seems like every bloke who works in the media has some kind of facial growth at the moment and I don't want to look like a square peg in a round hole – plus it means I don't have to shave. However, it does require you to 'groom' your beard regularly – is that overly metrosexual? I reckon that is acceptable too.
I will full admit to being a bit vain – not to the point where I am like that Ollie bloke from Made In Chelsea but I'd hate to think people saw me as anything other than taking pride in the way I look. But I had an idea the other day to go to a male beauty/grooming spa-type place to get one or all of the following:
A facial – a good cleansing of the pores every now and again must be good for you.

A manicure – recently a number of women I've met have commented on how much they like a guy's hands

A pedicure – feet are never nice at the best of times but if you can elevate yours above that of the competition you're giving yourself - and your flip flops - a better chance of success
As I type, I have just heard a very long ad on the radio promoting 'manatomicals' male grooming range which just goes to show there is a market of men with similar thoughts! Anyway, are the above going over the top? If I did this (prior to my holiday) would I be a stylish, thoughtful, considerate metrosexual or just a vain idiot? I think this could be going too far.
I would appreciate your feedback!
But I still think I'm going to give myself a bit of a makeover and here's how I'm going to save money doing it.
If I was feeling really flush (which I never am) I think I would go to The Refinery which I have to say looks amazing. There are a couple of them in London – one at Harrods and one in Mayfair. But you need to work in the City to be able to afford it so that's a no.
The next place I might visit is Murdock of London – there are a number of locations in London and I walked past the Covent Garden one the other day and it looked great but again it's not the best value of places, so hopefully a Groupon deal might come up soon.
Another option is Jason Shankey who seems to be slightly more in my price range and who is based in Fulham and Belfast for any Northern Irish readers.
The fact is that being a fully-fledged metrosexual is an expensive business but there are other ways to save on the products you use in everyday life. Check out our Boots page which has some great deals at the moment and try a few things out.
I'll be sure to let you know what I go for in the end and just how embarrassed I was at having my nails done!