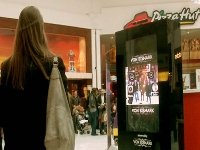 New Technology Gives Customers Virtually the Best Shopping Experience
Being a full-time fashionista is hard work. Nothing is more frustrating than pounding the high street for that elusive pair of slimming jeans or on trend maxi dress and coming home without the satisfying rustle of brown paper bags in your hand. Resigned to hunting out copies of catwalk favourites from the comfort of your laptop, you frantically search eBay using terms such as 'Vintage Americana' and 'Decorative Day' only to be faced with a confusing array of pre-loved outfits. When nothing you see quite hits the mark, you opt for an a-line dress that just falls within the boundaries of '50s chic', only to be gazumped by a season bidder. When did kitting yourself out in the finest gear become so taxing?
For those who have grown weary of becoming dedicated followers of fashion, the style gods appear to have heard your call. New technology now enables customers to try on virtual clothes in-store and share the pictures taken on social networks. It is expected that the device will be available for use at home by the end of 2012.
The Von Bismark Wardrobe enables shoppers to see themselves on screen and use gestures to try on clothes sold by the retailers.
Once customers have their ideal
top to toe outfit
in place they can capture their image and get opinions on their outfits by sending images to social networking sites such as Facebook or Pinterest. The outfit can then be purchased using a QR code and items will be sent directly to their shopping cart.
The technology was the brain child of Irish start-up Von Bismark and is supported by Intel's AIM Suite's facial recognition software as well as Microsoft's Kinect camera. These help the digital display become an interactive mirror. Users can then touch and move around physical goods.
Commenting on the technology, Eoghan O'Sullivan, chief executive and founder of Von Bismark, said: "We capture someone's digital signature then we know what clothes they looked at on the platform: that might be a blue jumper for 25 seconds, a grey jumper for six seconds, blue jeans with both.
"We can then get in touch and say we know you liked the jeans, they're now on sale. That's a much more relevant conversation that retailers can have with customers.
"We do a lot of big data mining. Everything that happens in front of our camera is mined: we can tell their age, gender, height, clothing preferences,
Facebook profile
, how many pictures they took and so on. You can get granular information from the physical world, which up to now has been almost impossible to get."
The Von Bismark Wardrobe proved a roaring success when it trialled in a Hugo Boss store in Dublin for a three-day period last month. This increased footfall by a figure of 110%. 50 pictures were also shared on Facebook, generating 1025 Facebook picture likes and an audience of 20,000 people.
By the end of 2012 the system will also be available in homes in the form of the Von Bismark Passport. Customers will be able to save their profiles in store and access it through their home devices. The Von Bismark Passport Passport will also allow customers to try on clothes from a number of different retailers.
"This will be a real gamechanger," said O'Sullivan. "It means you will be able to sit at home in front of own TV or go into local retailer, take scan of body, store the scan, will be able to access it on smartphone, tablet, pc, will tell you what size you are in every retailer."