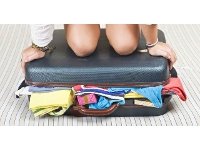 One Holiday, 28 Outfit Changes!
Putting together the perfect holiday wardrobe has always been something of a fine art. Do we attempt to fit our full spring/summer collection into a sturdy suitcase or do we cherry-pick from the items we love the most? According to recent research we really can have it all on our annual breaks and, unsurprisingly, we can only do this by giving a thumbs up to our yes, no and maybe piles. If capsule wardrobes were the name of the game in seasons gone by then this summer's 'excess baggage' is definitely an appropriate term. After all, why showcase only a few outfits on a 7-day break when you can dazzle the tourist hoards with a full 28?
Just as celebs wouldn't dream of going to an awards ceremony without demanding at least three designer offerings from their stylist, the average women feels the need to switch outfits a diva-worthy four times a day during a one-week holiday. One in ten women go further still and show off seven outfits within a 24-hour period on their hols.
Why one look just isn't enough
According to Bernadette Lusher from
F&F
, who commissioned the research, making the transition from our day-wear to evening-wear isn't the only shift we need to make on holiday. She said: "Unlike the typical day at home which can involve an outfit for work or for popping to the shops, an average day on holiday can consist of several different activities.
"Each needs a different outfit - a bikini by the pool, shorts for walking around the shops and then a chic maxi dress for an evening meal.
"This can make packing a nightmare, especially if you are
travelling by plane
and can only carry a certain amount of luggage."
37% of the 2,000 women that took part in the survey also agreed that less definitely is not more, opting to refresh their looks as the mood strikes them even if this means several trips back to their hotel room.
For more than half of the women surveyed (58%) staying in the same outfit just isn't practical as evening activities may require something a little more glitzy.
One in 20 women also argued that their
holiday wardrobe
was so extensive that they needed to alternate their outfits throughout the day.
The ultimate holiday wardrobe
The ideal holiday wardrobe, according to the study, would comprise of six tops, four pairs of shorts or skirts and four dresses.
This is in addition to three bikinis or swimsuits, three pairs of flip flops or sandals, two other pairs of shoes and two pairs of trousers or jeans. With so much to get right, it's worth remembering that
discount vouchers
could help you avoid burning too much of a large hole in your pre-holiday budget.
As if all this wasn't enough, many women opt to boost their holiday wardrobes with regular shopping sprees in their foreign destination of choice. This adds a further two items of clothing or shoes to their already over-stuffed suitcases.
Ms Lusher offers a few words of guidance for those fashionistas for whom packing smart is an alien concept: "The trick is to make sure you plan your clothes rather than just chucking the entire contents of your wardrobe into your case.
"Packing some staple items along with some accessories can give you several different outfits without the bulging suitcase."

Handy tips for savvy packing
Pack clothes in storage bags that can have the air removed to reduce their size to free up more space.
Wear your heaviest items of clothing on the journey there such as boots and coats so this doesn't take up space in your suitcase.
Make the most of your hand luggage allowance and squeeze in as much as you can.