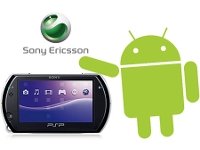 PlayStation on Android OS
Though we've been having a bit of
good-natured fun
at Apple's expense as of late, we legitimately think that they put out a lot of nice products. It goes without saying that the iPhone has been a major player in the smartphone industry, with a high adoption rate and almost universal praise. However, they might soon have some legitimate concerns to tend to. In addition to recent news indicating that the market share of Google's Android OS had surpassed that of Apple's iOS, they now have to contend with the announcement that Sony is planning to bring its
PlayStation to Android 3.0
.
While we wouldn't go so far as to say that this is, in any way, indicative of an impending death knell for the iPhone, it's still a concern that
Apple
would do well to immediately address. The rise of
smartphones
has led to a subsequent increase in the number of users who actively partake in mobile gaming, which has since become a multi-billion dollar industry. Indeed, even Apple's own App Store boasts of thousands of games in its library, indicating that there's a very real market for it.
Sony, of course, has a long established reputation has a heavyweight in the gaming world. Since the inception of the company's original PlayStation in the mid 90s, to the current success of the PlayStation 3, they've repeatedly shown that they're more than capable of putting together the right combination of hardware and software to make for an engaging and immersive gaming experience. Additionally, choosing to adopt Android rather than using a proprietary mobile operating system could prove to be an especially savvy move. By using Android OS, Sony is integrating itself into what is quickly becoming one of the largest phone platforms worldwide, meaning they don't have to build a market for their games and service from scratch.
However, this could also easily prove to be a moot point. Other companies, most notably Nokia with its N-Gage, have tried and failed to successfully integrate mobile phones and gaming. Still, Nokia's handset may have been doomed from the start only because of their lack of experience building gaming hardware. The combined expertise of Sony and Google could prove to be exactly what many techies have been waiting for.