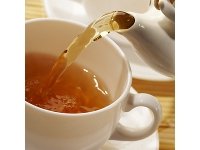 Put the Kettle On
Tea is, without doubt, an institution here in the UK. It has more uses, many of which are contradictory, than anything else I can think of. A steaming mug of tea will get you going first thing in the morning while a hot cuppa will relax you at the end of the day. Coming in from the cold? A nice brew will warm you up and yet the best thing when it's a bit hot outside is a warm RosyLee to refresh you. Friends will gather to laugh and catch up over a shared pot of tea yet we're just as comfortable curled up on our own with a good book and a steaming mug of char. Stressed or upset? Have a cup of tea. Shock? A sweet brew will snap you out of it. Is it really any wonder that we love the stuff so much?
Drinking tea in the UK dates back to the mid 16th century and today we drink more than 120 million cups every day. The
Tea Council
's website even has a fun counter showing up-to-the-second number of cups consumed.
So what makes a decent cuppa? So much has been written about making the best cup of tea but the one thing that everyone agrees on is
boiling water!
If your water isn't on the boil when it's being poured over the leaves or bags then you might just as well be drinking dish water. So, first things first, get a decent kettle. To help you along, why not take advantage of this
5% discount voucher
to use on kettles at Kitchen Fun.
Next will be what kind of tea you use. Should it be leaves or bags? Black or green? String or weak? Earl Grey or Darjeeling? And does herbal tea even class as tea, anyway? Tea snobs will insist they know best but, when it comes to it, it doesn't really matter as long as you're enjoying it, so go with whatever you prefer and save yourself 10% in the process with this
Whittards voucher code
.
And lastly - cup or mug? Again, for the most part, I say does it even matter? Well, there are some times when the answer is yes, it matters.
For example, one of the biggest groups of people who drink regular cups of tea throughout the day are, of course, workmen - builders, construction workers, road workers, if it's manual labour then these guys will be stopping
frequently
for a brew. And they won't be drinking it from a china teacup with dainty flowers handpainted on it. Likewise, if you're treating yourself to
Afternoon Tea
, you don't want it served up in stained, chipped mugs that look like they belong on well, a building site!
So, it doesn't matter kind of tea you drink, it's not important if you have it strong enough to stand a spoon in or so weak that it resembles dishwater, no-one cares if you prefer mugs to cups or if you add sugar or not. If anything, it's one of tea's many charms, the fact that you can enjoy it many different ways and in many different situations. However, what is important is what kind of biscuit you decide to dunk in it...but that's a whole other blog!
So, anyone fancy a cuppa?