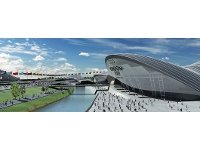 Rental Accommodation in London Summer 2012
It's been a long wait but finally the Olympic Games are almost upon us. With this once in a lifetime opportunity, many Britons have shelled out huge amounts of cash to get their hands on tickets and are looking forward to soaking up some of the excitement of the games over the next few weeks. However, alongside these excited few, there are many more who are not anticipating the games with quite such a sense of glee. Many Londoners are, in fact, dreading the start of this international event.
For many of the Capital's residents, their focus is on managing to maintain some sort of normality in their lives and get to work and other commitments whilst dealing with the increased traffic and crowds of millions expected to hit the city streets. Some have come up with what seems to be a fairly elegant solution – leave.
In fact, an estimated 4 million people are expected to leave the UK at around the time of the start of the games, using their annual leave entitlement to avoid the chaos that is likely to ensue. And not only are these people going to manage to avoid a good deal of stress, they could also end up enjoying a substantial windfall as a result.
Homeowners who are within easy reach of London have realised the lucrative investment that is available for the duration of the event by simply vacating their homes and offering them up to strangers as accommodation during the Olympics. In return for shelling out for a two week holiday somewhere warm and sunny, these clever householders could earn enough to cover their mortgage for several months or even a year.
Typical small suburban houses which are in the Greater London area or close to good rail links into the city are fetching in excess of £3,000 a week for summer 2012, whereas larger and more luxurious residences are being rented out to foreign families for £10,000 or more. The closer to the city the accommodation is, the more they can charge so even a modest two bedroom flat in the heart of the city could go for £5,000 or more for the week.
For some Londoners, however, the accommodation situation is proving to be less than rewarding for them. Some landlords with their eyes on making a fast buck have been reported to not be renewing their tenants' contracts as they come up for renewal close to summer 2012. Tenants are finding themselves looking for their own rental property in London just as the prices go through the roof, all because their landlords are hoping to make 6 months or a year's worth of rent all in a two week period.
Without doubt, in the context of rental accommodation in London, Summer 2012 is going to be an unusual and volatile time so, for tenants looking for long term accommodation, the only option will be to look elsewhere until things settle down again. Of course the landlords are taking a risk as they may not get a taker for their overly-inflated property prices and also risk not getting long term tenants back into the house once the excitement has died down.
Hamptons International has a large range of accommodation ready for the Olympics. To search by
property type and location visit the website
here
.