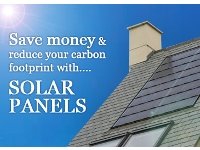 Savings That Can Be Made By Installing Solar Panels
Many of us like to try and save on energy wherever we can. Gas and electricity bills always seem to be on the up so the more we can do to reduce our energy needs, the more money we can save.
This is one of the reasons why solar panels are becoming more popular all the time. There are lots of advantages to having solar panels installed on your roof and many of those advantages are financial in nature. Let's take a look at the different ways in which you can make savings.
Free solar panel installation
It's still possible to go down this route but it may not last much longer. The idea is that you get your solar panels for free so you can generate energy from them and save money on your energy bills. In turn the company that installed them keeps the feed in tariff the government pays out for the installations. This is a good way to take advantage of the installation without paying for it out of your own pocket.
Take advantage of the feed in tariffs by purchasing your own solar panels
There are two tariffs that apply to any household that has solar panels installed to generate energy from the sun. The first one is a tariff that you get simply for generating your own energy. Think of this as a thank you payment for not using energy from the National Grid. The second payment is made per unit for every unit you generate that you don't use in your own home. So if you generate more than you can actually use you will benefit in this sense as well.
This latter situation is most likely to occur for homeowners with a larger solar panel installation. Most installations measure between 1kW and 4kW so bear this in mind. It also depends on how effective you are at saving energy wherever you can.
Take advantage of making major savings on your energy bills too
Let's say your solar panel installation enables you to generate half of the average amount of energy you use in a year. If your energy bills normally added up to, say, £600, you would save £300 a year simply through generating some of your own energy.
You can probably see that a combination of smart energy use and a larger solar panel installation will bring more in the way of savings and more potential to earn from the feed in tariffs as well. Indeed, if you have room, a 4kW solar panel installation will pay for itself in much less time than a 1kW installation would.
But in every case you can take advantage of real savings on your energy bills when you start using solar panels to get solar energy into your home as well. The longer you stay in your current property after having the panels installed, the more beneficial it will be. Why not consider the benefits today?
Article by
http://www.solarpanels.co.uk