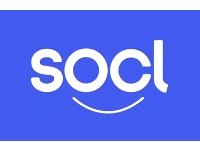 Social searching system launched by Microsoft
Microsoft has announced that it will be joining the social media bandwagon by opening up its new service to the public.
The facility originally worked on an invitation-only basis for students at universities and schools in the US and was designed to bring 'like minded' people together to have discussions and share comments about interesting search results.
Integrated with social media giant Facebook, So.cl is being billed as an 'experiment' as opposed to a serious entrant into the social media market.
So.cl was developed by Microsoft's Fuse Labs unit as a "research project... focussed on the future of social experiences and learning."
The facility uses Microsoft's Bing search engine technology to allow members to create collages of content through external links. Members can also take part in 'video parties' where they watch online videos together before commenting on them via a chat function.
Users can also monitor their associates' feeds and locate other users with similar interests.
Facebook
log in details are used to enter So.cl but their activity does not appear on Facebook's pages unless they opt into it.
Is Microsoft tip-toeing its way onto the social media scene?

According to Eden Zoller, principal analyst at technology consultants Ovum, the answer would be yes and he argues that this slow and steady approach is the right way to make an assault on the market.
"The fact that So.cl is targeted at students echoes Facebook's beginnings and has made many assume it is a Facebook clone.
"But So.cl is, as
Microsoft
stresses, an experiment designed to be a layer on existing social networks.
"Microsoft is being sensible in positioning So.cl in this way - the opposite approach of Google which entered social networking all guns blazing with a full on service and is having modest success."
Enhancing its search engine
According to recent research conducted by Comscore, Microsoft's Bing search engine is still trailing behind Google's. April figures showed that it had a 15.4% share of the market, compared to Google's 66.5%. This gulf between the two search engines is said to be even wider in some parts of Europe and the UK.
Mr. Zoller argued that the So.cl project could help to boost these poor search engine results for Microsoft.
Earlier this month, Microsoft announced another tie-up with Facebook to integrate tips from the social network into Bing's results.
Increase in social networking
In its report entitled
Our Future World - An analysis of global trends, shocks and scenarios
, the Centre for Future Studies predicted an increase in social networking over the next few years, with the largest group of social network users aged 35 and above. As well as highlighting Facebook's example, the report also argued that 'Twitter is another social networking tool with rapid and recent growth'.
Could social media be dying out before it's begun?
The flotation of Facebook hasn't been received well by investors who continue to shun its shares. Facebook debuted on the Nasdaq stock exchange this past Friday at $38 a share but shares have already dipped by 5.2% and are currently down to $33.27 each. The outlook was even worse on Monday, with shares falling by 11%.
The social media site has 900 million users which helped the company to generate $1bn in profit last year. However, experts have raised concerns about the site's ability to increase its profits in the long term.