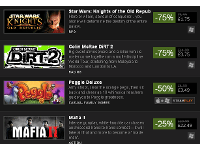 Steam Holiday Sales
If you, for whatever reason, never took the advice we dispensed several months ago about getting
Steam
, you may have just missed out on one of the best gaming sales of the year. As we noted, Valve, the company behind the Steam platform, is notorious for offering its customers unbeatable discounts almost year round, in addition to providing them with top quality games. However, around the holidays, Valve tends to go overboard with its deals, and this year was no exception.
For six days, beginning on the 24th and ending yesterday, the 29th, Valve has been holding their annual Give & Get Sale. Popular games such as Left 4 Dead 2, Call of Duty 4: Modern Warfare, Borderlands, and Metro 2033, among literally hundreds of others, were discounted to prices as low as 1.75. Even popular casual games such as Peggle, as well as popular indie games like World of Goo saw huge discounts, meaning there was something to be had for everyone in the family of any age.
Still, if you made the mistake of missing out this time around, don't fret: While there were some undeniably great deals to be had over the course of the past week, this sale was just a precursor to the larger Steam holiday sales which are set to take place soon. So, if you haven't already, hop on to Steam's site and download the platform now. And, while you're waiting for the next sale, be sure to check out some of the games that Steam offers
100% for free
, regardless of the time of year.