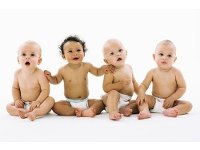 Surprise Baby? Just Watch The Cost
I recently read a story about a woman who was sterilised after deciding with her husband that 4 children were enough. Less than a year later she was pregnant again. Now, for many parents, once you're over the shock, having another baby in the house isn't such a big deal. It's not like you have to worry about being first-time parents or anything. That is, until you remember that you got rid of
everything
baby related that you ever owned. It doesn't matter why a pregnancy is unexpected, starting from scratch certainly works out very expensive indeed.
Does it Have to be Brand New?


First things first. Do you
have
to go out and buy everything brand new when most things can be found in pretty good condition and a lot cheaper in second hand shops or on sites like
ebay
? For the most part, there is no reason why you can't buy just about everything for a baby second hand. Everything, that is,
except for the mattress and the car seat.
I cannot stress this enough but, for your baby's health and safety and
your
peace of mind, always give a new child a new mattress, even if you do have an old one in storage somewhere. As for
car seats
, unless it's one that you've owned from new, you don't know if a second hand car seat has been in an accident and has underlying and unseen damage that will compromise your baby's safety.
Saving on New Stuff

So, we know what
has
to be bought new but how do we save on these essentials?
Online shopping is probably your best bet. Stores like Mothercare and Kiddicare regularly offer discount codes when you order online. There is often a minimum spend but, as you probably already know, mattresses and car seats don't come cheap so it's quite easy to reach that minimum level.
Compare shops. Parenting stores all tend to stock the same sort of products and even big branches of Tesco, Asda and Sainsburys have almost as much to choose from these days. Whether out on the High Street or sitting at your computer, if you know what you want, compare its price and/or available offers between shops. This is obviously easier to do at a computer where you can switch between relevant shops without walking miles on already aching feet.

The smaller things. If you're already buying online and want everything new for your baby, you'll often find that voucher codes and free delivery options actually offset any discounts you make by buying second hand. Many shops exist purely online because it's a lot cheaper for them, which means they can offer their products cheaper.
Buying Second Hand


If you want to shop for second hand items for your baby, there are many, many places to do so but there are also a few things worth remembering.
Online - ebay and similar auction sites are today's equivalent of the classifieds section in the local paper pre-internet. You can find just about anything you can possibly think of on these kind of sites and, as most sellers are rated, you'll have a pretty good idea of how good their items are likely to be. However, there is still a lot of trust necessary, especially when it concerns baby items. As people from all over the country (and world) sell online, popping round to someone's house to pick it up isn't usually possible so you only have their word that it comes from a smoke-free environment, for example. You also need to factor in postage. Some people do bump up the postage costs making your bargain buy not such a deal after all.
Car boot sales - held up and down the country, usually on a Sunday, car boot sales can be the perfect place to pick up some really good deals on baby essentials. Although you can see the products before you buy, there are still a few things to be aware of. For example, is it safe? Unfortunately, some unscrupulous people will try to sell items, in particular toys and electronics, that are otherwise not allowed for sale in the UK because they don't meet safety standards. Even if it's brand new and a fraction of the price of a branded equivalent, avoid it like the plague and report the seller.
Second hand High Street shops - stores like Oxfam and other charity shops can often hold little gems at amazing prices but are primarily known for their clothing. The thing about baby clothing, especially during the first few months, is it's often outgrown after just a couple of wears so what you're getting is as good as new. Something to remember though, while people who donate clothing are asked to ensure it's clean, it's probably best if you run anything you buy through your own washing machine. Shops often high steam items but that's not to say they're clean.