If diamonds are a girl's best friend, then Elizabeth Taylor certainly had no shortage of chums. This week her legendary jewellery collection went on sale and, in true legend style, records were broken. Speaking of breaking records, world famous androgynous male model Andrej Pejic has been hired to model push-up bras! Yes, an unnaturally thin man with nothing more than nipples is modelling push-up bras for ladies! This week's fashion highlights are filled with dreams and delusions.
Considered to be the Crown Jewels of Hollywood, Elizabeth Taylor's personal jewellery collection went on auction this week and broke world records. The bidding started with a gold and gem charm bracelet estimated at $25,000-$35,000 going for $326,500(£208,960) and that was just the beginning! Her 'La Peregrina' necklace sold for $11,842,500(£7,642,764); this diamond, ruby and pearl necklace is considered to have one of the finest pearls in the world. Miss. Taylor's stunning and infamous 33.29 Asscher-cut diamond ring, given to her by Richard Burton, was estimated to sell for $3.5 million and went for $8,818,500(£5,643,840). When the feeding frenzy had finished and the rich had their precious stocking fillers, the grand total came to $115,932,000(£74,196,480). The previous world record for a private jewellery auction was for the Duchess of Windsor's collection that sold in Geneva in 1987 for $50,281,887(£32,440,057).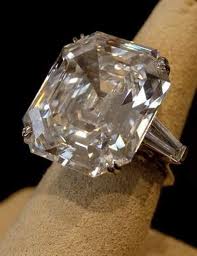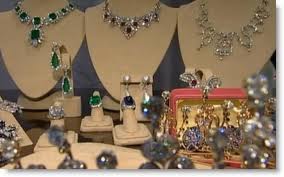 Buyers from across the globe fought over the pieces, pushing the prices ever higher. The auctioneers themselves were overwhelmed and giddy with the thrill of the astronomical, record-breaking sales, stating at one point that they did not even know where to begin the bidding. $10 million? Considered to be the greatest personal jewellery collection in the world, it certainly proved its value. And in keeping with Elizabeth Taylor's lifelong humanitarian efforts, a portion of the proceeds will go to The Elizabeth Taylor AIDS Foundation.
You and I may have missed out on our chance to own a piece of Hollywood royalty glamour but that doesn't mean we don't deserve some gems ourselves. If these pictures have left you desiring a little sparkle why not take a look at the collections
Marks and Spencer
has to offer this Christmas season.
Maybe you have read a few of my blogumns and noticed that I am not fond of the overly-thin models designers and photographers are so fond of using. This has nothing to do with jealousy my dears, rather I don't understand how you can design women's clothing and foundation garments to accurately fit the curves of a full grown woman when you aren't using one to begin with. In case you are unaware, many models are under the age of 18, meaning that they have not fully developed yet, so how can they possibly represent the picture of womanly perfection when they are but mere babes?
Apparently Dutch retail c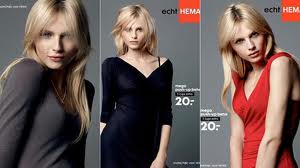 hain,
HEMA
, does not care about your curves or breasts for that matter. Instead they care about creating buzz and that is just what they have done by using androgynous male model Andrej Pejic to represent a line of push-up bras. The images released earlier this week show what appears to be a sexy young woman gazing into the camera while displaying a bra - or do they? I don't really know because, unlike traditional bra adverts, you don't actually SEE the bra itself or the breasts; instead you see a model wearing a dress covering 'her' chest completely, leaving the suggestion of perfect little breasts. Well, of course you can't see the bra because then you would notice that there are no breasts to begin with so there is nothing to actually push up! Yes, I know that some men have noticeable breasts (or 'moobs') but these are big guys who do not want those ample bosoms in the first place. In order to create the look of cleavage on a man like Andrej Pejic, surely the stylist must have used chicken fillets to fill the empty space left in the cups where fatty tissue should be. So again, what are they selling?
Personally, I will stick to retailers that use women to sell products for women because I care much more about what I am spending my hard earned money on then about the possibility of what a product 'might' do for me. When looking for some extra lift for my girls, I like shopping at
Figleaves
or
Simply Yours
. Both offer a wide variety of lingerie for ladies that have actual breasts, no matter what the size.