It seems birthdays are in the news at the moment - first the Queen's official birthday, Prince William's big 3-0 this week and then, Tori Spelling's daughter's fourth birthday. So the last one isn't really news, I know but she supposedly spent thousands on giving her daughter the perfect princess birthday party and, for whatever reason, people are up in arms about it. How dare she spend so much money on a little girl's party when the rest of us are struggling to make ends meet? I have to say, why shouldn't she?
We each mightn't spend thousands on our kids but I bet, proportionately, we all spend the same percentage of our money as everyone else - because we want to make our kids happy and, if that means spoiling them on their birthday, so be it!
If you've read any of my other blogs, you'll know I'm big on birthday parties - I think a little imagination and some logical spending can really help make a themed party look effective and impress the most discerning of young children. So, some simple tips to make sure your child's party hits the mark without breaking the bank.
Planning


The most important part is planning - and I mean as far in advance as is necessary to take advantage of seasonal sales. For example, now that the jubilee is over, you'll see big reductions in serviettes, plastic tableware and tablecloths in the jubilee colours of red, white and blue. Snap them up because, while there'll be no more jubilees occurring anytime soon, perhaps your son fancies a space themed party (blue partyware is a great basis) or your daughter wants a fairy party (white partyware mixes with pink accessories for an enchanted effect) or your young teen wants a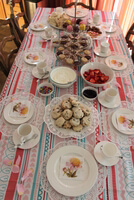 Twilight themed party (red partyware is going to look really effective with some black accessories!) All the decor doesn't have to be professionally themed - you can opt for relevant colours in balloons, tablecloths, tableware and more.
Preparing

Food at a kid's party is often the most time-consuming and, with the rising cost of groceries, can end up being pretty pricey as well. This is where it pays to be prepared. Every week, the big supermarkets like
Sainsbury's
, Tesco's and Asda, change deals and offers on various food products. Here at Savoo, we've partnered with MySupermarket to list the
top weekly deals
from the UK's major grocery stores. As these deals change on a regular basis, keeping an eye on them will often let you stock up in advance so that, when it comes to preparing the party food, it's all there and hasn't cost you a small fortune. The Mr Kipling cakes I got for my daughter's Tea Party birthday were all on BOGOF special offer a few weeks before her actual party so I stocked up knowing the expiration date was way past the party date.
Games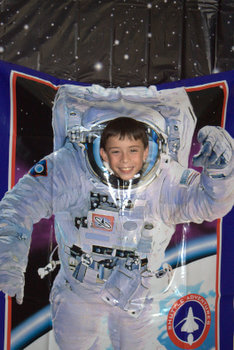 Of course, feeding the kids and making the house (or other venue) look the part, isn't enough to keep 15 or more kids entertained for long. Fortunately, no matter what the theme, traditional party games fit in just about anywhere. For example, the prize in Pass the Parcel can be theme-related and picked up for just a couple of quid from the pocket money section of
toy shops
.
Another really simple idea that kids love is to buy a poster that fits in with the theme, cut out a hole and take a picture of each of the kids. I did this with a spaceman for my son's space themed party. The photos then make great Thank You cards!
Party Bags


I have to admit to favouring online party shops when it comes to stocking up on theme-relevant party bag goodies.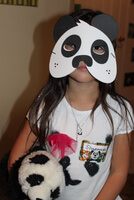 I rarely buy traditional goody bags, preferring to pick up cheap, plain little bags over the year - you'll often find them in the bargain bins in supermarkets and
stationers
. It just doesn't seem logical to spend a few quid on some plastic bags that cost three times as much just because they have a Disney princess or something on them. However, with online party shops like
Party Delights
or
MonsterParties
, not only do you save with bulk buying (perfect for parties) but you'll usually find a voucher code or two that you can add to your purchases for even more savings. I was really excited to find these 'Make Your Own Panda Masks' for just 10p each - perfect for my panda-obsessed daughter's party!