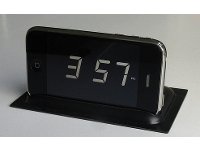 Tweets About the iPhone 4 Alarm Clock Bug
Sorry this was posted late. Oh wait, it wasn't. And the reason why it wasn't late was because I didn't use an iPhone 4 alarm clock to remind me when to post it. As if the iPhone 4 didn't have enough problems as it stood, users throughout Europe were recently hit by a bug in its alarm clock program that prevented it from being updated when the phone's time was updated from British Summer Time to Greenwich Mean Time this past weekend. Though we here at Savoo were lucky enough to avoid it, scores of other people apparently weren't. Here are some random Tweets from users about it:
@garrettc
: "Daddy, do you remember where you were during the great iphone alarm calamity of 2010?" "No son, I was asleep"
@ThickShag
: I'm curious what time Cupertino decides to wake me tomorrow #iPhone #daylight #saving #wintertijd #alarm #fail
@JoPaul_10
: Why do I always wake-up ONE hour before the alarm? I don't even have an iPhone.
@cmasone
: All of Europe late for work? you can blame it on the iphone http://bit.ly/9H356G
@justinbieber
: lol y my fone waek me up so l8? y appl so dum?
Okay, there's a chance that I may have made that last one up.