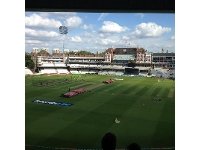 Virgin Atlantic girls, a raffle and finally a night with no rain
By The Man About Town
As I sit at my desk and look out the window, normal service has resumed. The rain is lashing down and more severe weather warnings have been issued than Premiership footballers take out injunctions. But last night was different; the sun was shining and cricket fans in London flooded (sorry about that pun) into the Oval for the Friends Life T2O game between Surrey and Kent. Luckily for me I was there too, but not part of the masses – no, no – I was there as a guest of
Webgains
in a corporate box. A mighty fine way to spend an evening, if I do say so myself.
It's been a while since I was at a T20 game and I'd forgotten how much fun it actually is. The atmosphere was great and, although the game wasn't best quality cricket (Kent gave a demoralised Surrey team a bit of a licking), the evening was fun. A lot of businesses could do worse than think of T20 evenings for a corporate entertainment. It's the perfect length of time, it's exciting, I can't imagine it's all that expensive for a reasonable sized business and yet everyone comes away feeling like they've been royally entertained. And, what's more, you don't even have to like cricket all that much to get enjoy the occasion – that's the beauty of T20.
The Oval's new OCS stand is well worth a visit if you do like your cricket and, if you're lucky enough to be invited into a box, rest assured the food is terrific. Spicy curry and rice all washed down with lashings of whatever you want while watching some crash, bang wallop cricket is my kind of night.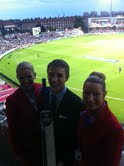 Who else was there other than the Savoo boys? Needless to say, the great and the good of the affiliate world were out in force. Amongst the crew of box 48 was Tom who was on work experience with a company called UK Web Media. As it was his last day and one of his colleagues had to pull out, he was called up from the bench to get his 90 mins of glory! And, if the free booze, food, cricket and balmy weather wasn't good enough, it got better as young Tom (18 is young to me) won the raffle and took home a cricket bat signed by the Surrey team.
Adjacent to Webgains was the
Virgin Atlantic
box and looking radiant in red were two female cabin crew, who were certainly catching the eye of most of the men in box 48. They were true professionals and told us some amusing stories about badly behaved celebs on their flights. But it was young Tom who got the closest to them as they kindly posed for a photo with him and his newly acquired prize. If only my work experience had been so rewarding…
A big thanks to the team at Webgains for making it such an enjoyable evening. Here's hoping we can return the invitation soon.
Don't hold me to this, but if you fancy a flutter in the T20 then I would be hedging my bets and having a look at the Sussex Sharks and the Notts Outlaws as the two teams to beat right now.