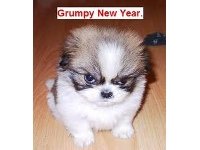 Why I Won't Be Celebrating New Year
I don't know if you've heard but apparently there is a New Year on the way – who would have guessed? Now I know that you will all probably be sat eagerly anticipating the weekend and the dawn of 2012 but I'm going to be embodying the spirit of Ebenezer Scrooge for a little longer and will be saying a big, fat "NO" to New Year celebrations.
Why am I doing this, you may (or may not) be asking? Well – I'll tell you:
It's overrated. The fact is, all that's happening is the passing of 24 hours, something which we manage to witness on a fairly regular basis without throwing a party. Yes, it marks the end of a year but I really fail to see why that is as special as everyone makes out.
It's expensive. Have you ever tried to go out on New Year's Eve? The experience is not a pleasant one for your wallet seeing as everyone and their dog sees it as a golden opportunity to hike up their prices, knowing that we inebriated Brits will still fork out the cash. Of course, you can save money by looking for offers and discounts but my preferred method is to sit at home with a leftover turkey sandwich and a nice bottle of wine.
It never lives up to expectations. Much like Christmas, the New Year is over before it's really begun. The minute the clock strikes midnight and we all battle with our mobile networks to send a very generic and unimaginative text, the New Year moment has officially passed. That combined with the fact that parties and nights out are never quite as good as the promise means that it's usually one big, fat disappointment.
It's nothing to celebrate. Now, I don't want to sound too much like a miserly old codger but why exactly are we celebrating the passing of another year? All it means is that a) we are older, b) we are probably going to face another twelve months of difficulties and c) we have to remember to start writing "2012" instead of "2011" (something which we will probably master about the time 2013 arrives).