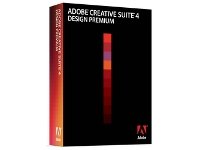 Win a Copy of Adobe Creative Suite 4 Design Premium
We've teamed up with
Pocket-Lint
and
Adobe United Kingdom
to bring you the chance of winning a copy of Adobe Creative Suite 4 Design Premium for the PC, a superb software toolkit package worth £1614.
The Creative Suite software itself enables you to create across print, the Web, and mobile media. Users can create eye-catching vector graphics in Adobe Illustrator CS4 and powerful digital images in Adobe Photoshop CS4 Extended. Use Adobe Fireworks CS4 to prototype websites, Adobe InDesign CS4 to create short and long documents for print or digital delivery, Adobe Dreamweaver CS4 for standards-based web production, and Adobe Flash CS4 Professional to build engaging interactive experiences.
All you have to do to be in with a chance of winning this top-notch software package is to make a comment on
any
story on
Pocket-lint
during the month of February. It doesn't have to be in-depth, detailed or technical, but it does have to be useful, helpful or funny.
Pocket-lint will choose the comment they think is the best to win at the end of the month.
Be the first to hear about all our partnership competitions by following Savoo on
Facebook
and
Twitter