Their fundamental pledge
All In Diary is a diary packed with practical resources for humanitarian workers – a one-stop shop for key information you need during a disaster when time is short and demands are high. The All in Diary aims at giving both local and international humanitarian workers access to the same information to help improve the quality of humanitarian response, increase accountability to those affected by the crisis and enhance collaboration between agencies
Did you know...
All In Diary was founded in 2006 and is run entirely on a voluntary basis. Our recognition and reputation are growing and we work in close partnership with a range of international NGOs e.g. Save the Children, World Vision, RedR, UNICEF. The Diary has been translated into 9 different languages. To date over 20,000 printed copies have been distributed across every continent, and 4,000 visitors a month visit our website.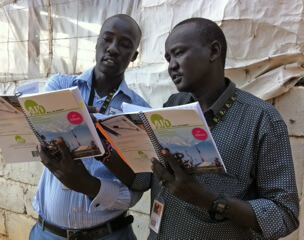 =style="margin;10px;">
What makes All in Diary different
A great deal of information is already available covering all aspects of humanitarian response, but in an emergency people do not have time to read manuals, electricity lines can be down and internet access is unreliable. All In Diary makes this information easily accessible and available to all in paper and digital formats.
Other ways to support
Do encourage others also to support All In Diary through Savoo.co.uk. Follow us on Facebook and Twitter. Share ideas and advice you might have to fundraise and market this unique resource, and buy a copy of the All in Diary.