Charity toolkit
Welcome to Savoo's charity toolkit. You can find everything you need to promote Savoo to your supporters and let them know that they can support you through us for free. As well as some suggested text for your social media posts, website and email signatures, we provide Savoo banners and logos for you and your supporters to share. We'll also have seasonal materials available, too.
Everything on this page is completely free to download, so you can start sharing Savoo with your supporters whenever and however you like.
Resources for you to share

Seasonal Banners
Christmas Banners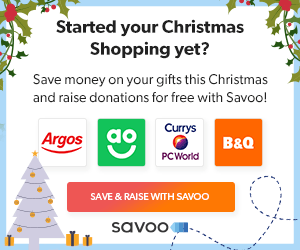 Sizes
Black Friday Banners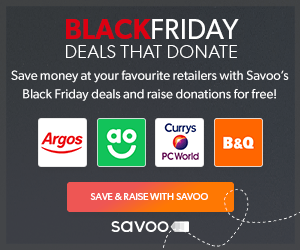 Sizes
Giving Tuesday Banners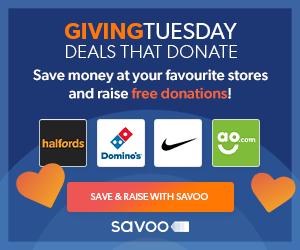 Sizes
Regular Banners
Donations Banner
Sizes
Stores Banner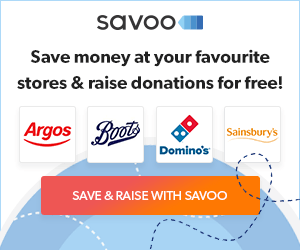 Sizes
Suggested text for a Facebook post
Below is a suggested Facebook post you can use when you join Savoo, or even if you just want to remind your supporters about us. Feel free to use and tweak as you see fit!
We are pleased to announce we are now working with Savoo! When you use their discount codes and deals to save money on your favourite things, they'll donate to us on your behalf at no extra cost to you.
It's a really easy way to support us for free while saving money too. They also have a Microsoft Bing-powered search engine – for every web search you make they'll donate a penny to us on top of what you raise using their online discount codes.
To find out more about how it works and to support us for free, click here: [insert https://www.savoo.co.uk/how-it-works link]
Suggested Tweets for Twitter
Here are some suggested Tweets you can share with your Twitter followers. Just a heads up, the bit.ly link you see is just a shortened down URL. Using a link like this means there is more room for text. We've already provided the bit.ly links to the correct pages on the Savoo website for you – all you have to do is copy and paste and hit tweet!
Support us for free with Savoo while saving money on your favourite things. Click here for more info: http://bit.ly/2sAAwgs
Did you know you can support us for FREE? Savoo donates on your behalf! Click here for more info: http://bit.ly/2sAAwgs
Support us for free when you use a voucher code from Savoo. Click here to start supporting: http://bit.ly/2srM85y
Suggested text for your email signature
Perhaps you'd like to include a link to your Savoo page in your email signature? Feel free to use the example we've provided below, linking to your charity page. If you're unsure of your charity page URL, please get in touch at charities@savoo.co.uk.
Did you know you can support us for free through Savoo? [hyperlink the text to your Savoo charity page]
An introduction to Search, Save, and Raise
We've created a short summary of the Search, Save, and Raise concept for you to share with your supporters on your website, or wherever else you like.
[charity name] is delighted to announce Savoo as a new fundraising partner of ours. Savoo is a market-leading voucher code and deal website, and offers online vouchers and discount codes for some of the UK's biggest retailers. When you take advantage of one of these for your online shopping, they will donate up to 50% of their commission to us on your behalf. The best part is, it's completely free of charge – meaning not only will you receive money off your shop, but you will be raising money for us in the meantime.
Now, you can also raise money for us simply by searching the web. By using Savoo's Bing-powered search engine, Savoo donates a penny to us on your behalf for every search made. It's really easy to use – simply set Savoo as your default homepage, register as a user, use their amazing voucher codes or search engine function, and Savoo will do the rest!
We'd really love if you could set Savoo as your default homepage and use their built-in search function when you search online. Again, this is completely free of charge to you. Through Savoo, you can make amazing online savings as well as supporting us along the way. So what are you waiting for? Start using Savoo today and raise funds for [charity name] while taking advantage of some amazing deals. Your support is hugely appreciated – every penny counts and makes a huge difference to the vital support we provide.