Exclusive up to 80% off Everything Plus Extra 6% off in the Myprotein Black Friday Event
Exclusive
Includes Sale
Supports Charity
40% Off
40% off First Orders at Myprotein
6% Off
Extra 6% off Orders - Myprotein Cyber Monday Discount
Savoo Reward Offer
£5 Gift Card
Get a £5 Amazon Gift Card When You Spend Over £50 at Myprotein
35% Off
35% off Selected Items at Myprotein
36% Off
36% off Selected orders at Myprotein
5% Off
Extra 5% off orders at Myprotein
Includes Sale
Supports Charity
35% Off
35% off New In Activewear at Myprotein
50% Off
Up to 50% off plus Free Delivery on Subscriptions at Myprotein
20% Off
Save 20% off Creatine at Myprotein
50% Off
Save 50% off Almost All Vegan Products at Myprotein
45% Off
Up to 45% off Key Worker and NHS Discount at Myprotein
30% Off
Save 30% off Jelly Belly Clear Protein at Myprotein
15% Off
Extra 15% off when you Buy 2 or More Products from the Myprotein Clearance
Deal
Buy Omega 3 and Fish Oils from Under £5 at Myprotein
Deal
Vegan Supplements from Under £1 at Myprotein
Deal
Bars and Snacks from Under £1 at Myprotein
70% Off
Up to 70% off Plus Exclusive Student Beans Discount at Myprotein
70% Off
Save 70% off Activewear Picks at Myprotein
60% Off
Up to 60% off Selected Vitamins at Myprotein
38% Off
Up to 38% off Myprotein Student Discount
Deal
Pick up Women's Swimwear from £3.99 at Myprotein
Free Delivery
Free Delivery when you Spend £45 at Myprotein
Top Tip
£24.99 for 1kg of Protein, 250g of Creatine, 6 Snack Bars and a Shaker at Myprotein
Free
Free Gifts Available with All Myprotein Orders
Top Tip
Sports & Gaming Energy Drinks from Under £2 at Myprotein
Top Tip
Get £10 Credit when you Refer a Friend to Myprotein
Top Tip
Get Special Offers and Discounts when you Sign up to the Myprotein Newsletter
Top Tip
Weight Loss Vitamins from Under £7 at Myprotein
Top Tip
Get Extra Rewards and Offers with Myprotein Member Perks
Free
Enjoy Free Returns at Myprotein
Top Tip
Immune System Supplements from £2.99 at Myprotein
Free
Free Metal Shaker for Students when you Spend £70 at Myprotein
Multibuy Deal
Buy One Get One Free on Over 200 Products at Myprotein
Popular Myprotein Discount Codes
| Discount | Last verified | Redemptions |
| --- | --- | --- |
| Exclusive up to 80% off Everything Plus Extra 6% off in the Myprotein Black Friday Event | 27 Nov, 2023 | Used 147 Times |
| 40% off First Orders at Myprotein | 27 Nov, 2023 | Used 339 Times |
| Up to 50% off plus Free Delivery on Subscriptions at Myprotein | 27 Nov, 2023 | Used 1,769 Times |
| Extra 6% off Orders - Myprotein Cyber Monday Discount | 27 Nov, 2023 | Used 4 Times |
| Extra 5% off orders at Myprotein | 27 Nov, 2023 | Used 141 Times |
How to Save More Money at Myprotein
Smash your fitness goals with Myprotein's excellent range of sports nutrition, supplements, gym clothing and gear. Take your workout to the next level without going over budget by checking out our shopping advice, tricks and tips to get the most out of your money.
Top Tip from Etaf Kawaldeh, your MyProtein Deal Expert
"As a former Powerlifter, MyProtein will always be my go-to for all things fitness and muscle gain. My personal favourite is the Clear Whey Isolate Protein Powder as it tastes like juice to me and doesn't have that whey aftertaste. They have so many flavours, such as Cranberry & Raspberry, Orange & Mango, Strawberry Kiwi, and so many others. My personal favourites Tropical Dragonfruit and Orange & Mango, especially when mixed with ice!




"What's better than that, is that I know I can always buy them on sale too, as MyProtein constantly has discounts texted to me as I've made an account with them. The discounts usually range from 30-80% off, which is absolutely crazy, but I love that as I am always stocked. If you're a serious protein lover, you can also get a recurring subscription on any of MyProtein's products, saving you 40% on all orders plus free delivery. It's honestly such an amazing way to make fitness and wellness accessible and affordable!"
Earn Myprotein Rewards as you Shop
Frequent shopper at Myprotein? Make the most of the rewards scheme to earn great discounts and free gifts. For every £1 you spend online you'll earn one point, and each point is worth £0.01 off your order. Redeem these points to save a little money on your next order or save them up for a free gift like a shaker, 1kg bag of whey protein or more fitness must-haves. Sign up o start earning reward points today.
Save with Bundle Buys
If you want to reach your goals fast, it's definitely worth checking out the bundles, packs and plans on offer. Not only do they contain best-selling products, but it'll also save money as it's cheaper to buy these items as a bundle rather than separately. Commit to your fitness goals and achieve them in a healthy, budget-friendly way with these bundle deals.
Shop by Goal and Try a Few Samples
Are you new to sports supplements and not sure where to start? Shop by goal to find the right ones for you with recommendations from the experts. Simply enter your gender, what you want to achieve such as weight loss, toning up or just improving general wellbeing, let them know any dietary requirements and you'll be given a list of supplements and nutritional treats to try.
Still not sure? Then why not try ordering a few samples to give them a go for less. Samples start from just £0.99 so you can fill your basket with plenty of testers, from protein cookies to whey protein, to give it a go before you invest in more.
Watch Out for Deals and Discounts
As well as the Myprotein codes we have on Savoo, there are always plenty of limited-time-only offers going on which you can spot on the website. There are even a few discount codes scattered around if you look out for them. Keep your eyes peeled for the red tag and fresh deals under products as you're browsing to see if you can get even more for your money. With offers like half off or two for one on selected products, there's always a way to bag a bargain.
How to Save with Myprotein Black Friday Deals
There are plenty of ways to save money this winter, with discounts expected to reach as high as 80% off popular Myprotein creatine, whey, vegan supplements and more. Black Friday, in particular, has sensational discounts which are likely to be the strongest of the year.
Last year's Myprotein Black Friday deals started as early as one week before the day itself, with a discount valid on all orders entitling keen savers to their purchases for just half price. A more significant discount of up to 80% off all orders was available on the actual day, so it's well worth waiting for larger savings. If you want to hold out for the biggest promotions, we recommend setting an alert on the morning of Black Friday 2023 (November 24th) so you can be the first to snap up those savings.
This is a great time to shop the Myprotein Advent calendar for less. New out this year, the vegan Advent calendar is full of plant-based treats and will arrive in time for December 1st when you order with next-day delivery. Finally, there is no need to worry if you missed out on Black Friday because Myprotein Cyber Monday and Christmas deals are right around the corner!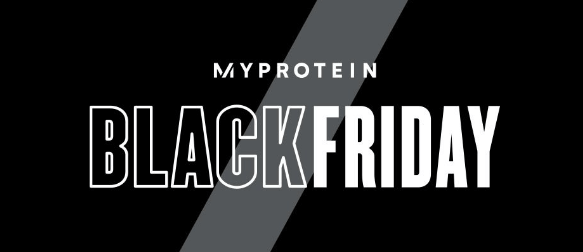 How Do I Use a Myprotein Discount Code?
Browse Savoo's awesome offers to save money on your order.
Click the 'show deal, go to site' button on your preferred deal or discount code.
Copy your Myprotein discount code.
You'll then be redirected to Myprotein's website.
Add supplements, activewear and gym gear to your shopping bag.
Click on your shopping bag when you're ready to pay.
Paste your code into the discount code redemption box.
Click 'use code' to add your savings to your order.
Complete checkout.
Check for your confirmation email. It won't be long before you're setting a new personal best in the gym.
Good luck on the next step of your fitness journey - come back any time for more great money-saving deals!
Recently Expired Myprotein Discount Codes & Deals
Get the Myprotein Black Friday Bundle for Only £24.99 Plus Free Delivery - Worth Over £75!
35% off Bestsellers at Myprotein
Up to 70% off Almost Everything Plus Extra 10% off All Proteins - Myprotein Black Friday Special
Up to 70% off Almost Everything at Myprotein
Only 29.99 for 1kg of Protein, 250g of Creatine, 6 Snack Bars and a Shaker at Myprotein
Similar Voucher Codes and Deals