How to save money at Beer Hawk this Easter
Get 15% off six mix and match beer kegs
Mix and match 6 Beer Hawk Kegs and get 15% off to satisfy your thirst for hoppy flavours this Easter. Lookout for the green Mix & Match Multibuy badge to see which delicious beers are included in this awesome offer. The discount will automatically apply to your basket at the checkout, so once you've chosen your kegs you're ready to start saving instantly. Enjoy a refreshing drink during the bank holiday weekend without worrying about running out of your favourite beer - all for a fraction of the cost. Kegs not for you? Discover plenty more ways to save with the latest Beer Hawk discount codes at Savoo.
How to save at Beer Hawk this Easter
Stay updated on the Beer Hawk homepage for Easter 2021 deals and check back for discounts on beer kegs or individually priced beers. From craft ales to IPAs, stock up on your favourites for less
Enjoy 10% off your next order when you sign up for the Beer Hawk newsletter. Stay connected to unlock the latest special offers and promotions all year-long. Fill your basket with your favourite tipples to celebrate in style.
Get rewarded with free beer and earn discounts for future beer orders using Beer Tokens. Earn tokens every time you order and cash them in for exciting freebies and deals. What better reason to shop your top beers?
Buy a subscription instead of a one-time gift for even better value for money. Let your pals enjoy as much beer as they'd like for Easter or any other occasion. Choose a gift voucher subscription for two months priced at £24 (eight beers) or a four-month subscription at £48 for 16 beers, including delivery - the perfect Easter gift for any beer fan.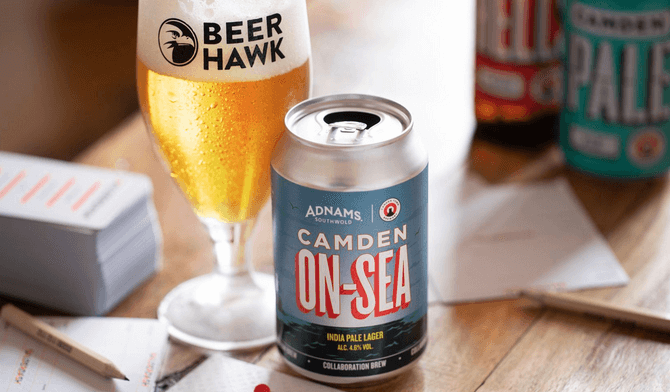 Beer Hawk Easter 2021 offers
As one of the UK's best online beer shops, Beer Hawk offers a diverse selection of over 1,000 craft beers from all over the world, conveniently delivered to your doorstep. Choose from delicious ales, ciders, wheat beers, and beer gifts for the beer enthusiast in your life.
Searching for Easter deals? Discover irresistible deals this spring across refreshing Belgian, German, American, and British beers and ales. Plus, you'll get free delivery on all mainland orders over £50 too. Although Beer Hawk hasn't released their Easter Deals for 2021 yet, in the past, they spotlighted beer gifts and mixed case selections. They also offered tips on their favourite mixed world beers paired with delicious chocolates. Here are some of the previous promotions, including last year's Easter deals and tips for gift giving:
Stock up and save on Mixed World Beer Cases.
Order the "Beer Hawk Hoppy Easter Craft Beer Box" featuring a curated selection of five of the brand's favourite craft beers, a glass, and chocolate eggs. It's not available in 2021 yet, but check back to see if it is still in stock.
Get tips on chocolate and craft beer pairings. Read the blog post "A Beery Easter Basket."
Enjoy various beer boxes for holidays and special occasions.
More ways to save at Beer Hawk
Join the beer club
Enjoy fancy beer tastings every week by joining BeerBods, one of the UK's finest beer clubs. Warm up your taste buds this Easter with Beer Hawk's four-week trial starting with your first box at just £10. The box includes four beers designated for every week, including an exclusive glass. After your taster pack ends, you'll pay £24 every two months. The live tastings begin every Thursday at 9 pm and is a great at home activity to learn more about your favourite tipples.
Save big on last season's cases
It's time to give a last hurrah to winter before welcoming spring and the Easter holiday. Save and stock up on the Winter Sale Case, which features a mixed case of 15 beers for £30. This case is for those who enjoy experimenting with new craft beers. Cases are a fantastic value choice, as you save more compared to buying each individual beer at £2.
Return empty PerfectDraft kegs
Take advantage of a special program where you can earn Beer Tokens when you return empty PerfectDraft kegs. Cash in your tokens for exclusive perks and do your bit to reduce environmental waste. For each beer keg returned you get £5 of Beer Tokens towards another round.

How to contact customer service
If you need help with your order, contact customer service on 01423 525750. Alternatively, visit the Contact Us page to send a message, or use their Live Chat service at the bottom right corner of their website.
What's the returns policy at Beer Hawk?
If you have a subscription, you can cancel your contract at any time free of charge. The cancellation will go into effect before the next subscription box. If you'd like to cancel a standard order, return the products you've received as per the returns policy on-site. You'll get a full refund including delivery fees. Read the terms and conditions before you shop.
How to use a voucher code
Browse the current selection of discounts, promotions, and sales at Savoo and find the voucher code you'd like to use. Click on "show deal, go to site" and copy your code. Once you visit the website, add your beers to your online basket. Once you're ready to pay, click on the basket and paste your code before hitting "submit." The last step is to complete your order and check for a confirmation email in your inbox.