Top Tip
Special Offers and Discounts with Stradivarius' Newsletter Sign Up
Free Delivery
Free Delivery on orders over £30 at Stradivarius
Top Tip
Womenswear from £12.99 at Stradivarius
Free Delivery
Free Delivery to Store at Stradivarius
Top Tip
Women's Shoes from £22.99 at Stradivarius
Top Tip
£3.95 Standard Delivery at Stradivarius
Top Tip
Buy Now, Pay Later with Klarna at Stradivarius
Top Tip
Free Returns Label at Stradivarius
Top Tip
New Arrivals from £7.99 at Stradivarius
Top Tip
Accessories from £9.99 at Stradivarius
Popular Stradivarius Discount Codes
| Discount | Last verified | Redemptions |
| --- | --- | --- |
| Free Delivery on orders over £30 at Stradivarius | 15 Nov, 2023 | Used 3,322 Times |
| Free Delivery to Store at Stradivarius | 15 Nov, 2023 | Used 49 Times |
| Special Offers and Discounts with Stradivarius' Newsletter Sign Up | 15 Nov, 2023 | Used 5,237 Times |
| Buy Now, Pay Later with Klarna at Stradivarius | 15 Nov, 2023 | Used 8 Times |
| New Arrivals from £7.99 at Stradivarius | 15 Nov, 2023 | Used 19 Times |
How to get an even bigger Stradivarius discount
Savings tip from your Stradivarius discount expert, Ruby Walker:

"While I don't love having loads of shopping apps on my phone, the Stradivarius app is well worth downloading for anyone shopping for fashion on a budget. Once you allow notifications you can get nudges on their app-exclusive sale offers and discounts. A recent one I used was the 30% Stradivarius app discount: I would definitely have missed out on this had I not seen the notification pop up!



They have a great selection of jeans as well as wardrobe staples like tank tops and strappy midi dresses. Even though apps can sometimes encourage you to spend more on items you don't need, saving on clothing essentials like these is valuable all year-round!"
Discover the hottest new trends at Stradivarius. Explore the stylish new collections of stunning clothing and trendy accessories to find a gorgeous look for any occasion at great value for money. Get top quality fashion at amazing prices with the money-saving tips below.
Filter by price to stay on budget
Find the cheapest items sitewide fast by filtering by price. Plus you can select your preferred price range to keep prices down and avoid the temptation to buy those pricier items. Discover gorgeous tops for as low as £3.99, eye-catching jewellery at £7.99 and stylish bags from just £9.99 to give your wardrobe a style update for less.
Download the free app
Stradivarius now has a free app available for both Android and iOS, which means you can shop the latest styles on the go. Create an account so you can add items to your wishlist and order them in a flash. Plus you'll also get instant sale and offer notifications along with news about the latest collections on your phone, so you're always the first in line for the hottest designs and deals.
Buy now, pay later in-store
Order items now and pay on delivery to give your wallet some wiggle room. Have your order delivered for free to a store near you and select 'pay on delivery.' Orders are delivered within 4 days, but with up to 10 days to collect your order, you can wait until it suits you to pick up and pay in-store. That means no more waiting until payday, and no risk of it going out of stock before you have the funds. But be aware, any orders left uncollected for more than 10 days will be cancelled, so make sure you get there in time to pick up your new goodies.
Find similar items
Find something you like, but don't quite love? Explore more of the Stradivarius range effortlessly and find something just right. Click 'view similar items' to see related items instantly. Find similar looks that you love just as much for half the price to bag yourself a bargain you might have missed. Browse for different sizes, materials or more fab colours with this handy feature. Favourite items or add them straight to your cart with this quick and convenient tool.
Tap to shop on Instagram
Follow Stradivarius' fabulous Instagram feed to see the newest lines and up to the minute trends. When something catches your eye it's fast and easy to tap and buy. Tap the image to see what's for sale and the price tags instantly, then click the arrow to go straight to the website. Pick up a bargain with an instant view of price tags and discounts, or add to your favourites and wait for the sale. Get yourself a new must-have skirt or killer boots at the tap of a button and get back to scrolling your Instagram feed in no time. You could be next to show off your fierce new look on the Stradivarius feed with the hashtag #Stradilooks and inspire the next fashionista to scroll by.
Find it fast with the online specialist
Find something you love in-store but it's not in your size? Enjoy a personalised online shopping experience with Stradivarius' online specialist. The online specialist will help find items online in the colour, size and style you want. Avoid the queue when you collect your order in-store and get the lowdown on all the gorgeous looks you've spotted on social media. Stop by your nearest store to meet the online specialist.
Save on your winter wardrobe with Stradivarius clothing
Save on your winter wardrobe with Stradivarius clothing, including dresses, cargos and jeans
If you're looking for a brand-new winter wardrobe, Stradivarius is the place to be. Get on-trend clothing for less, thanks to Stradivarius' low prices - you never have to spend a fortune to look your best this season.
Stradivarius clothing is all about this season's hottest looks for the best possible prices, so head straight to the website to see the top fashion looks in winter '23. Save in the Stradivarius sale, where you can find up to 40% off a wide range of seasonal must-haves.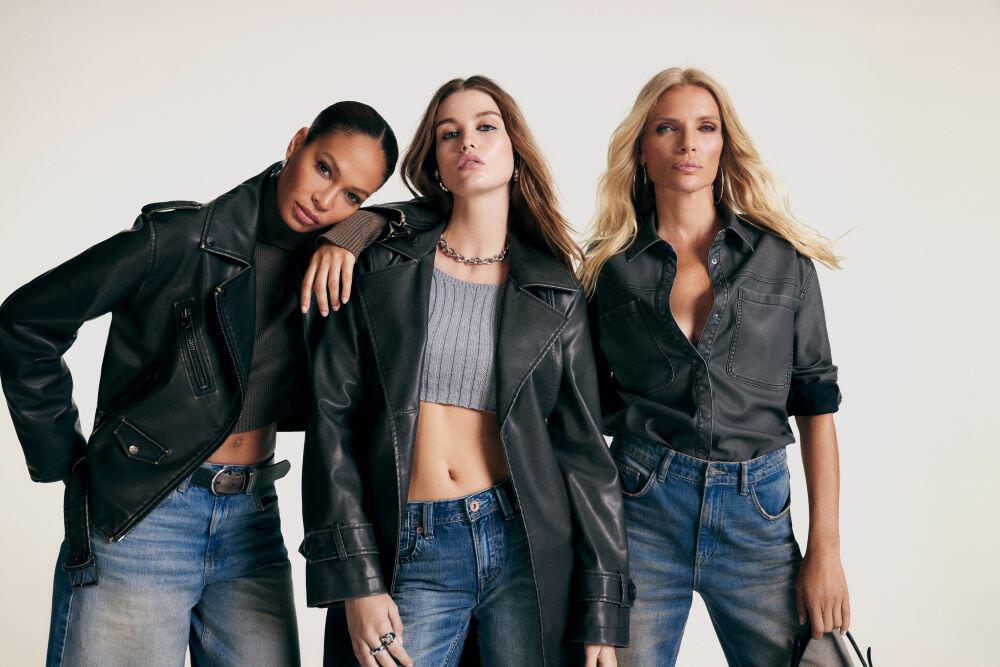 If you need some fashion inspo, you can't go wrong with Stradivarius jeans, such as on-trend 90s dad jeans and staple mom jeans, paired with a baby tee for an outfit you can wear over and over again. If you want something more comfy on your bottom half, you can also stock up on staples like leggings when you want something casual yet stylish. Or grab some Stradivarius cargo pants as cargos remain one of this season's biggest trends.
Now the colder months have arrived, coats and jackets are essential to get you through chilly days, pick up a Stradivarius aviator jacket, leather jacket or trench coat for a style that's in this season. These new-in for autumn and winter 2023 items are unlikely to be on sale until the launch of the Stradivarius Christmas sale (likely to begin on Boxing Day), so the top way to save on AW23 items is grab a discount code from Savoo or download the Stradivarius app.
And while Stradivarius dresses are no longer in season, there's no need to ditch the styles you love. Work on layering to re-purpose your summer dresses for the winter months to save money. Better yet, shop huge reductions on dresses in the Stradivarius sale, as you can find the biggest deals on last season's clothing. To ensure your outfit is fit for winter, style your dress with some Stradivarius boots, including knee-highs and cowboy boots for a look everyone will love.
Will there be a Stradivarius Black Friday sale?
Yes, based on previous years it is likely that Stradivarius will launch Black Friday deals early on in the Black Friday week. With discounts up to 40% off last year, you can expect the same great savings with certain hot items nearly half price!
How do I use my Stradivarius discount code?
Choose an offer from Savoo.
Click on the offer to reveal your discount code.
Copy your code and click the link to continue to the Stradivarius website.
Add items to your cart.
Click the 'Do you have a discount code?' dropdown under your items.
Paste your code into the box and click 'apply.'
Enter your delivery and payment details then complete your order.
Check your email for your order confirmation.
Recently Expired Stradivarius Discount Codes & Deals
30% off Everything: Stradivarius Black Friday Sale
Up to 40% off Black Friday Sale at Stradivarius
Up to 50% off Sale at Stradivarius
Up to 40% off in the Stradivarius Black Friday Sale
Up to 70% off Selected orders at Stradivarius
Similar Voucher Codes and Deals