How to Save Money at Thorntons this Easter
Buy 3 Easter eggs for the price of 2
Buying chocolatey Easter eggs for the family? Save money during Thorntons Easter sales when you buy more items eligible for Thorntons 3 for 2 deals! Find exclusive 3 for 2 offers on Thorntons Easter eggs, from regular, solid chocolate to hollow eggs filled with pralines, toffee, and more. Thorntons also runs the same sale on some of its chocolate Easter bunnies, making for hopping good gifts for everyone you want to surprise this year with a tasty treat. Personalise your 3 for 2 chocolate gifts with icing messages for no extra cost. And, don't forget to bring along a Thorntons Easter promo code from Savoo to save more.
How to save at Thorntons on Easter
Shop Thorntons Easter gifts section to find the best presents for Easter at incredible prices. From Easter eggs for kids to Easter flower gifts and Easter hampers, there's something at Thorntons to brighten everyone's holiday. Use the low-to-high price filter to shop and save.

Thorntons offers free personalisation for many of their delectable gifts, so don't forget to add it to your chocolate bunnies, Easter eggs, and chocolate bars when you add your items to your cart.

Want more for your money? Browse Thorntons Chocolate Hampers for baskets filled with the company's yummiest treats, like caramels, toffee, and chocolate bars. Thorntons even has a few Easter Sharing Collections with enough bunnies and eggs for the family to enjoy together.
Pick up even more unmissable Thorntons discount codes and deals to save big on your next online chocolate order.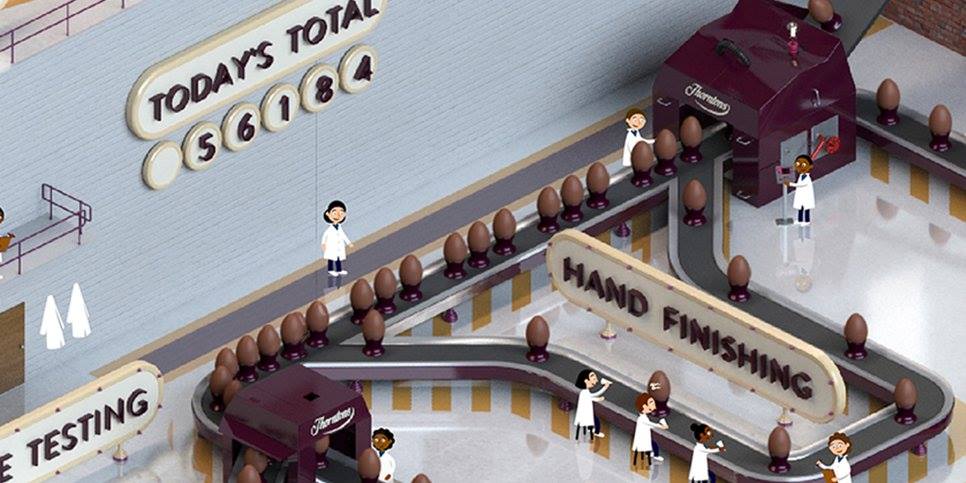 Thorntons Easter 2021 deals
Easter is a big holiday for Thorntons, a leading chocolatier in the UK. Since 1911, Thorntons has been serving up chocolatey treats for its fans and loyal customers, with its chocolate Easter bunnies and eggs being items people look forward to buying each year.
Thorntons has begun releasing some of its Easter promotions, starting with its 3 for 2 Easter eggs and bunnies. Still, you can expect to see more released as the holiday draws closer. Here are some of the sales we've seen in previous Thorntons Easter sales:
Ship your Easter items for free! Choose standard delivery, order more than £35 worth of goodies, and get free delivery.
Get the Continental Statement Easter Egg — a large, chocolate egg and a box of chocolates — for just £10, saving you £10 off the regular price.
As Easter weekend approaches and most people have finished up their shopping, find Easter eggs, bunnies, and other chocolate gifts for as much as 75% off from Thorntons.
More ways to save with Thorntons
Be one of the first to know about Thorntons Easter sales - Sign up for the Thorntons Easter newsletter to get notified when more items go on sale for the holiday. Thorntons also sends exclusive offers to subscribers to help you save every time you shop.
Check the website for giveaways - Find new giveaways from Thorntons, which the company releases occasionally to gift its fans with free chocolate goodies. Browse the website for chances to win! Enter the Share A Smile giveaway now to win £50 in chocolate and an at-home pamper kit to enjoy with a friend.
Look through Special Offers - Shop the Special Offers page to get low-priced deals on a variety of chocolate gifts, including caramels, chocolate blocks, truffles, and more. Use the price filter to find the most affordable items.