How to save money at M&S for Easter
Save big on Easter gifts with multibuy discounts
Marks and Spencer always has everything you need to make your Easter one to remember; from fab dinner outfits and chocolate egg baskets, to springtime home decorations and succulent lamb for Easter lunch. Plus, look out for heaps of multibuy savings and deals across all your Easter celebration essentials that'll certainly put a smile on your face. Stock up ahead of the big day and before supplies run out to take advantage of the best deals. With deals like last year's three for £2 on Easter eggs and treats plus even more Marks and Spencer discount codes from Savoo, filling up with chocolate eggs and sweets on a budget won't be hard.
How to save at Marks and Spencer this Easter
Check out the Gifts Under £10 page if you're looking for cheap Easter gifts to fill your kids' baskets for Easter morning. Filtering it by the person you're shopping for makes it easier to find tailored gifts in your budget.
Head to the Offers page to find all kinds of seasonal deals and springtime must-haves to celebrate Easter for less. Spritz up the living room with Easter decorations and save big on delicious Easter eggs and treats.
Sign up for the Sparks reward programme to get access to personalised offers based on your shopping habits. Build up your tailored deals before the big day to enjoy awesome discounts across the board. Plus, every time you scan your card, M&S donates to the charity of your choice.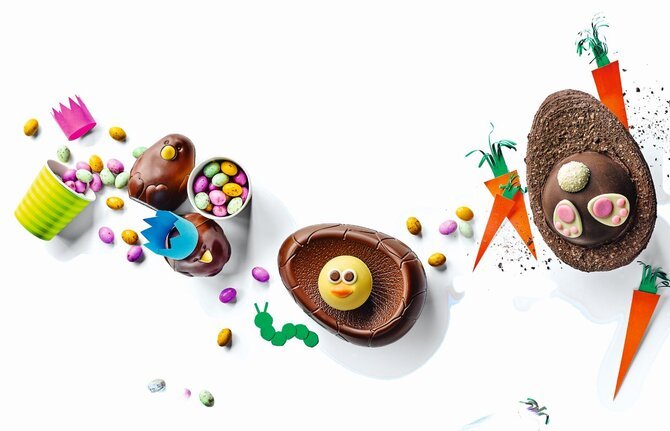 Marks and Spencer Easter 2021 offers
From small beginnings at the Penny Bazaar, Marks and Spencer has become one of the UK's best-loved retailers. The brand strives to keep everyday prices low while delivering the highest quality. This year, there's no better place to get your hands on all your Easter decorations, outfits, gifts and sweets. Here are some tips for shopping at Marks and Spencer on Easter:
Check out the Deals of the Week featured on the M&S homepage. Explore the best deals of that week and see what irresistible offers are waiting for you. This Easter, expect discounts across decorations, chocolate eggs, hot cross buns and sweet treats.
Utilise the drop-down menus as much as possible. There's a drop-down menu for Sales and Offers. In the menu, select the category that you would like to shop, meaning that you'll only see Easter gifts that have current offers going on.
If you're on a budget, use the filter by price tool to save time and money while on the hunt for Easter gifts. Once you've chosen your price range, browse products sorted from lowest to highest price to shop while keeping an eye on your wallet.

More ways to save at Marks and Spencer
Enjoy free delivery
Your favourite words are here: free delivery for all! Marks and Spencer makes it easy to qualify for the deal. Simply have an order of £50 (for wine purchases, it's £100) or more. If you're not quite at the threshold, pick up a couple of Easter gifts and goodies for friends and family to get more for your money and save on shipping.
Get interest-free furniture financing
Buying furniture is already an investment, which is why Marks and Spencers offers interest-free financing on all furniture. Make monthly payments between 12 to 24 months without interest. There's even a Credit Repayment Calculator on the site that helps you know what your monthly cost would be.
Pay in three installments
If you're using Paypal to buy from Marks and Spencer, make sure to check out with the Pay in 3 option. As long as your purchase is over £45, you will qualify for interest-free payments. Make one payment at the time of purchase and then two more monthly payments.
How to contact customer service
If you have any questions about your order or about returning an item or even sizing of products, take a look at the Help and Contact Us page. This section answers most, if not all, your questions. If you need to speak to someone directly, there is a live chat option on the website, or look at the Contact Customer Service by Phone page of the corresponding department's phone number.