How to save at Dollar Shave Club this Father's Day
Save up to 15% on Father's Day gifts with the Dollar Shave Club handsome discount
Help your dad look his best on Father's Day with grooming supplies from Dollar Shave Club. Items like razors, beard oil, skincare, shower products and more all qualify for this discount. If you're wondering, the Handsome Discount has nothing to do with looks, and everything to do with how many items you have in your cart. If you have 2-3 items you'll get 5% off, 4-5 items gets you 10% off, and 6 items will get you the maximum 15% off your order.
How to save at Dollar Shave Club on Father's Day
Save money at Dollar Shave Club by getting started! Welcome packages are just £5 and come with a razor handle, four razors, and a sample pack of shaving creams. It's a low-risk introduction to the brand that gives you a great experience for the price.
The Dollar Shave Club clearance section is another way to save money when shopping with Dollar Shave Club. You can find shaving products, hair products, cologne, and more. If you see something you like grab it while you can, because some of these products do sell out.
Get free shipping when spending £15 on your order. With so many great products on offer, hitting that £15 is almost a foregone conclusion. Otherwise, orders under the £15 will cost £3 to ship.
Unlock even more great Dollar Shave Club discount codes and deals to ensure you make a huge saving on your next online order.

Dollar Shave Club Father's Day 2021 deals
Dollar Shave Club is an American company that sells razors and personal grooming products. They service the United States, Canada, Australia, and the United Kingdom. As Father's Day approaches on all our calendars, shaving razors and accessories are a no-brainer when it comes to gifts that your dad will love. While their gifts are suitable for Father's Day, it doesn't look like Dollar Shave Club's sales accommodate the holiday. You'll have to rely on the trinity of Welcome Packages, Handsome Discounts, and bundle offers when saving money on your gift shopping. If Dollar Shave Club announces Father's Day 2021 deals, this page will be updated to reflect those deals.
More ways to save with Dollar Shave Club
Referral programme - Refer a friend and receive £5 once they complete their first order. Dollar Shave Club will give you a personalized link to refer friends and family, and you can send this link through email or post it on social media. Read the full terms of the referral programme, here.
Bundle offers - Save up to 20% when shopping Dollar Shave Club bundles. For example, the Most Popular Stuff Trial Kit comes with seven essential shaving creams and face wash items at a reduced price. If you manage to catch this deal when it's not sold out, it's a great way to try a wide spread of their products without having to spend on full-size items first.
Social promotions - It doesn't happen often, but Dollar Shave Club sometimes has giveaways and contests on their social media channels. Their latest offer was a giveaway celebrating their 9th anniversary, where nine members won 40 years of free replacement razors. If you don't want to miss the next giveaway, make sure to follow Dollar Shave Club's social channels.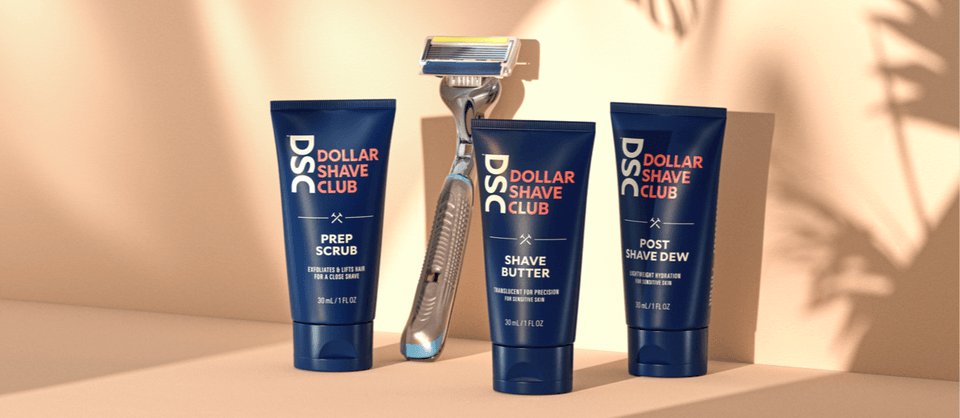 What is the return policy for Dollar Shave Club?
Dollar Shave Club does not accept returns for any reason. However, they do have a money-back policy if there is something wrong with your product or if you are unsatisfied for any reason. Just reach out to their customer service team and they will square that away for you.
Is there a penalty for canceling My Dollar Shave Club subscription?
Dollar Shave Club lets you cancel your subscription at any time with no penalty. You can either do this through your account page, or by reaching out to customer service.